Why Wasn't Adele Nominated for a Grammy? Here's the Answer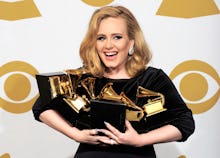 In a perfect world, award shows would honor distinguished artists who are deserving of their coveted trophies. Yet, time and time again, programs like the MTV Video Music Awards, the American Music Awards and even the Grammy's fall short in the eyes of audience members. This year, fans of Adele, Justin Bieber and One Direction, none of whose latest albums were nominated for a single 2016 Grammy (a full list of nominations was announced Monday morning on CBS), were outraged over what they thought were blatant oversights, even though that wasn't the case.
Was Adele snubbed? Before Adele fans (Adelers? Adelists? What is the proper term?) sharpen their pitchforks and blast "Hello" in group protests, the reason their British powerhouse vocalist wasn't nominated for any awards is much less sadistic than some might presume. The deadline for music being considered for the 2016 58th Grammy Awards required a release date from Oct. 1 of 2014 to Sept. 30 of this year. 
Of course, everyone is well aware of the fateful day Adele dropped 25, trumping music sales and making everyone hate their exes just a little more on Nov. 20. 
One Direction and Justin Bieber, who both reportedly switched their album release dates to avoid competing with the "Remedy" singer, didn't make the cut either, with a release date of Nov. 13 for both albums. 
The 2016 Grammy nominations go to: In place of these fan favorites are other music icons, including the Alabama Shakes, Kendrick Lamar, Chris Stapleton, Taylor Swift and the Weeknd, all nominated for the album of the year award. Other artists raking in nominations for the 2016 Grammys include Ed Sheeran, whose "Thinking Out Loud" is up for record of the year, and Mark Ronson, who is nominated for pop vocal album of the year and record of the year for "Uptown Funk" featuring Bruno Mars.
So, until the 2017 Grammys come around and these artists can be recognized for their late 2015 albums, the world will just might have to settle for another T-Swift dominated awards show. The 58th Grammy Awards air Feb. 15 at 8 p.m. on CBS.