Elizabeth Warren Gives a Thumbs-Up to Hillary Clinton's Plan to Take on Wall Street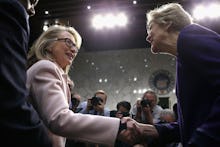 Sen. Elizabeth Warren (D-Mass.), a tribune of the progressive left, has previously chided Hillary Clinton for siding with the financial industry in a landmark bankruptcy reform vote. Warren has also indicated that she's open to backing Clinton rival Sen. Bernie Sanders (I-Vt.), and notably skipped a Washington fundraiser for Clinton last week, which all other female Democratic senators attended.
But Warren, a thorn in the side of big banks and whom some progressives hoped would mount a presidential bid of her own, came out with new praise for Clinton, as the Democratic presidential frontrunner ramps up her push for Wall Street reform.
The background: In a New York Times op-ed on Monday, Clinton laid out the measures she'd take to rein in the financial industry, which has been a leading source of Clinton's campaign funds dating back to her tenure as a United States senator from New York.
Clinton vowed to impose a "risk fee" on large financial institutions that pose systemic risks to the U.S. economy, curtail risky speculation, empower federal regulators and increase the statute of limitations for "major financial crimes" from five years to 10 years.
Moreover, Clinton indicated she'd combat Republican-led efforts to weaken the the 2010 Dodd-Frank financial reform law, including attempts to defund the Consumer Financial Protection Bureau — Warren's brainchild. Clinton also said she'd "fight to reinstate the rules governing risky credit swaps and derivatives at taxpayer-backed banks," which Congress rolled back in a spending package passed last year in the face of Warren's impassioned opposition.
The Bay Stater took note of Clinton's op-ed, tweeting on Monday, "I agree with @HillaryClinton":
Warren's praise for Clinton comes after the senator applauded Clinton this spring, when the former secretary of state expressed skepticism toward corporate-friendly provisions in the Trans-Pacific Partnership trade agreement she previously championed as the nation's top diplomat. Amid pressure from forces allied with Warren and Sanders against the deal, Clinton announced her opposition to the pact this fall.
But that's not all: While Warren found much to like in Clinton's op-ed, it's unlikely she looks favorably upon Clinton's pushback against efforts to reinstate the Glass-Steagall Act, a 1933 law that siphoned off traditional commercial banking from riskier investment banking to protect consumers. President Bill Clinton signed the 1999 law that repealed Glass-Steagall. Warren, along with Sanders and Democratic presidential hopeful Martin O'Malley, has advocated reinstating the law.
"[M]any of the firms that contributed to the crash in 2008, like A.I.G. and Lehman Brothers, weren't traditional banks, so Glass-Steagall wouldn't have limited their reckless behavior," Clinton wrote in her op-ed on Monday. "Nor would restoring Glass-Steagall help contain other parts of the 'shadow banking' sector, including certain activities of hedge funds, investment banks and other non-bank institutions," she added, vowing to crack down on that sector.
Warren, by contrast, has drawn a direct line between the repeal of Glass-Steagall and the 2008 financial crash.
"That high wall between high-risk trading and boring banking was punched full of holes until in the late 1990s, it was knocked down when Glass-Steagall was eventually repealed," she said this summer. "And not long after that, the worst crash since the 1930s hit the American economy."
So what will Warren do? Don't expect Warren to announce her 2016 pick just yet. In an interview with the Boston Globe over the weekend, she said that she expects to endorse in the primary, but isn't sure if she'll do so before the Iowa caucuses, slated for Feb. 1.
What's more, Warren added, "I don't have a timeline for this."
So long as she remains publicly undecided, Warren's endorsement will be highly sought. In Clinton's case, Warren's support could help assuage doubts about her progressive bona fides. For Sanders, who's won over many activists who tried unsuccessfully to persuade Warren to run, her endorsement would deliver a jolt of energy to a campaign that's flagged in recent weeks as Clinton has regained control of her candidacy.