Rapper 2 Chainz Gives Back by Offering to Pay a Disabled Veteran's Rent for a Year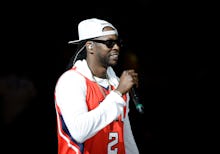 Single mother and veteran Deirdre Plater of Palmetto, Georgia, has had a rough 2015. Plater had struggled to pay rent and find work and recently underwent surgery to address injuries she sustained while serving in the military. Over the weekend, however, she found a helping hand extended from an unlikely source. 
On Saturday, 2 Chainz — rapper, scholar and budding philanthropist — paid Plater a visit, bringing furniture and an offer to pay her rent for a year. He also came with cameras, and CBS 46 caught the meeting on tape. 
"I love to see stuff like this happen for other people, but I never thought it would happen to me," Plater told CBS 46.
She shared that last week was her son's birthday, and when his mentor sister brought them money for Thanksgiving groceries, she noticed the family didn't have any furniture. 
"I guess that sparked my son's mentor Mark Barnes to do something special for us, and when he got the call from 2 Chainz about helping a family it all fell into place," Plater said, according to CNN.
The rapper posted about his motivations for giving back on Instagram on Sunday, looking back at his own disadvantaged upbringing. "I remember when we didn't have hot water and I didn't want my friends to know, so I told them it was something wrong with that bathroom and they couldn't use my mommas," 2 Chainz wrote, listing memories from his childhood.
Part of the proceeds used to pay for the furniture came from 2 Chainz's TRU Foundation charity, which has been selling "Dabbing Santa" sweaters to raise money for holiday gift-giving. 
"I'm trying to show my kids, I'm trying to show the community that although it's the season to give, every day should be the season to give," 2 Chainz said in a clip shared by Fox 8. 
It's hopefully the beginning of the holiday miracles the TRU Foundation will be working this December.