Here Are 5 Muslim Sports Heroes Donald Trump Doesn't Believe Exist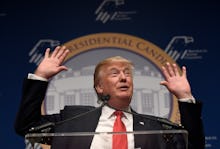 In his 15-minute Oval Office address about terrorism Sunday, President Barack Obama encouraged Americans not to discriminate against Muslims in the fight against extremists, saying Muslims are our "friends and our neighbors, our co-workers, our sports heroes." Donald Trump challenged that statement in a classic Trump-style tweet on Monday. 
"What sport is he talking about, and who?" Trump said in his tweet, also suggesting the president was "profiling." Trump's comment sparked a rapid response from Twitter users, who reminded him of some of the most famous Muslim athletes, some even tweeting photos of Trump himself posing with some of them. 
Here are five Muslim "sports heroes" that Donald Trump's tweet suggests he forgot exist:
Muhammad Ali: After becoming one of the most legendary boxers of all time, Ali, 73, has dedicated himself to philanthropy since retirement and his 1984 Parkinson's disease diagnosis. 
Twitter users were quick to remind Trump he had met Ali several times.
Mike Tyson: Mike Tyson became the youngest heavyweight boxing champion in the world in 1986, when he was 20 — and Trump tried to keep Tyson, who had been convicted of rape, out of prison in 1992, according to Mother Jones. 
Kiran Khan: This 24-year-old swimmer has participated in the South Asian Games since 2004 and represented Pakistan at the 2008 Summer Olympic Games in Beijing. "My sports made me a more focused, sharper, more determined and stronger person than I was before," Khan told Mic in October. "It's a mental game — the stronger you are the better you are."
Kareem Abdul-Jabbar: Jabbar, 68, is the NBA's all-time leading scorer and six-time NBA champion, according to his site, the author of several bestselling books and a regular contributor to the Washington Post. 
Raha Moharrak: A 29-year-old mountaineer, Moharrak is the youngest Arab and the first Saudi woman to reach the peak of Mount Everest. "Although I never set out to be an athlete from the beginning, I take it as a huge responsibility," Moharrak told Mic in October. "I feel like it's my duty to clearly relay the message of being brave enough to follow your dreams, and if I inspire just one person, it would mean the world to me."
Actress and activist Mia Farrow set the Donald straight on this one: