Women's Boxing Heavyweight Champion of the World Has to Work a Day Job to Pay Rent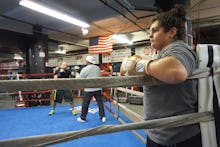 The first time Sonya Lamonakis punched somebody in the face was during a fourth-grade playground scuffle in her hometown of Turners Falls, Massachusetts. "I don't remember who or why," she said, "but that was rare — I didn't get in too much trouble as a kid."
Lamonakis' parents owned a Greek seafood eatery called The Athens Restaurant when she was growing up. It was a staple in what is now a town of about 4,800, and she behaved herself accordingly. "Everybody knew my mom and dad," she explained, "so if I did something wrong, they'd find out about it."
But after two decades spent avoiding trouble, trouble found her. Lamonakis was mugged one day outside a Springfield, Massachusetts, ATM by two attackers, one of whom grabbed her by her hair and pressed a knife to her throat as she sat in the driver's seat of her car. The incident proved to be traumatic. "I wanted to learn how to defend myself after that," she said.
An ensuing conversation with a friend led her to don a pair of boxing gloves for the first time. She fell in love with the sport almost instantly. She was 27 years old.
Over the next nine years, Lamonakis enjoyed a successful amateur career, winning six Golden Glove titles — one of the sport's highest non-professional accomplishments — both on the national level and in New York, where she moved in 2005. She fought her first professional bout in 2010, and has since pummeled her way to a 10-2-2 pro record.
"It wasn't easy to get fights at first," she said. "I was selling most of my tickets by getting on undercards for male fighters ... Once I turned pro, I started fighting around four times a year. It's less than that now that I am where I am."
Now, she is at the top of the women's boxing world. On December 6, 2014, thirteen years after her mugging, Lamonakis stood in a ring in Sint Maarten, a sunny island nation nearly 200 miles east of Puerto Rico in the Caribbean sea. She had just won a split decision match against North Carolina-native Carlette Ewell to become the International Boxing Organization's first women's heavyweight champion of the world.
The IBO is one of the more prestigious sanctioning bodies in boxing, making the unlikely Lamonakis — a middle-aged Greek American from northern Massachusetts by way of Lesbos, the island in the Mediterranean where she was born — one of the best female fighters on earth.
But from a business standpoint, this means more in theory than it does in practice. When Lamonakis returned to the United States that winter, she went straight back to prepping for her day job: teaching social studies at John Ericsson Middle School 126 in Greenpoint, a neighborhood in northern Brooklyn, New York.
"The number one difference [between men's boxing and women's boxing] is the money," Lamonakis said after a brief training session in November. She's currently prepping for her next bout, which she expects will take place in February. "If you're a girl and you're in boxing for money, you're in it for the wrong reason."
Lamonakis has repeatedly described teaching as her career and fighting as her hobby. She holds two master's degrees — one in education from American International College in Massachusetts and another in special education from Stony Brook University in New York — and has been a full-time teacher for nearly 20 years.
But the day job is also a product of necessity. For the fight that netted her the heavyweight title last year, Lamonakis got paid what she says is typical for women fighting at her level: $3,000, plus a percentage of ticket sales.
She expects to make the same when she tries to defend her belt early next year. For comparison, former IBO men's heavyweight champion Wladimir Klitschko made millions to defend his title against current champ Tyson Fury on Nov. 28 (an exact figure is not available, but ESPN reports Klitschko turned down more than $4 million for a single German TV station).
Boxing is defined by nebulous case-by-case payouts, so it's hard to discern who is making how much and when, or to calculate anything resembling an average. But this much is clear — the Lamonakis case illustrates a much bigger problem in sports.
For years, pay disparities between men and women have been commonplace across the athletic spectrum. When the U.S. women's national soccer team won the World Cup in 2015, the squad was reportedly paid $2 million — one-fourth of what the U.S. men's team got for reaching the round of 16 the year before.
Meanwhile, the German men's national team made a staggering $35 million when they won the 2014 World Cup final.
The average salary for players in the Women's National Basketball Association is so low that many play overseas during the offseason to make up the difference. Baylor University phenom Brittney Griner was offered a $49,440 rookie contract from the WNBA's Phoenix Mercury in 2013. The next summer, in China, she was offered $600,000.
One problem is women's professional sports have a much smaller audience, in most cases. But growing interest from viewers has yielded encouraging shifts. An estimated 26.7 million people in the U.S. watched the most recent women's World Cup final, beating out the 2014 men's final by 200,000. Since 2007, all four tennis Grand Slam events have offered equal prize purses to men and women, according to the Women's Sports Foundation.
Yet boxing still lags behind in comparison. Mixed martial artist Ronda Rousey is the closest thing professional fighting has to an unequivocal female superstar — she regularly competes on Pay Per View, and made a serviceable $6.5 million between June 2014 and June 2015. But besides her, the field is sparse. Lamonakis is well aware of this disparity — or, as she calls it, "the bullshit."
"The other women [boxers] I train with at the gym, we talk," she said. "We compare notes, we know the game. We're in a double market ... none of us are getting rich from boxing. It's part of our life, but we all work day jobs. Most are personal trainers. One is an artist."
A lack of interest from major American TV networks and a relative dearth of fighters — only 21 female professional heavyweights fought in 2014, according to the Ring — means absent opportunity is the order of the day for Lamonakis and her female peers.
But what they lack in money, fame and spectators, they make up for in skill and passion. "We don't get a lot of attention," she said, "but we're fun to watch. Women fighters tend to leave it all in the ring."
On a brisk Thursday evening in November, Lamonakis, now 41, stood in the corner of a boxing ring at Gleason's Gym in DUMBO, a Brooklyn neighborhood abutting the East River facing lower Manhattan. On a gray block featuring two separate upscale furniture design stores, the sweltering and eclectic Gleason's feels like an anomaly.
A hodgepodge of fighters hones their craft inside. They're either sparring in one of the gym's rings or skipping rope and lifting weights on the sidelines, as trainers and onlookers shout encouragement or talk trash from the picnic benches near the back. A banner advertising "Sonya 'The Scholar' Lamonakis, IBO World Champion, NYC School Teacher" hangs proudly near the doorway. Lamonakis saunters through the gym with a confidence that belies her 5'7" frame.
Anyone can tell you fighting seasoned pugilists is different from taking hits in a street brawl. For starters, you're expected to hang out a while, circling and dodging your opponent until a clock says you can stop. Then there's the matter of strategy. Boxing is, after all, a cerebral game. Being a hands-first endeavor necessitates reckoning with your physical limitations — are you long enough to dance and swing, or do you keep your head low and fight a closer, inside game?
By either metric, it is hard to imagine lasting more than a few seconds in the ring with Lamonakis. She is not tall, but weighs a solid 220 pounds. Her hands that day were wrapped in royal blue tape, her hair pulled back in a Samurai bun. Watching her work, it's apparent why she's been successful: Her stocky frame masks exceptionally quick fists that explode from her body and return shockingly fast to a defensive stance.
Nearly everything about her is unexpected. And she doesn't plan to quit anytime soon. "Heavyweights bloom late, and can fight late into life," she said. Lamonakis then mentioned light heavyweight legend Bernard Hopkins, who is 50 years old. "I want to compete at least another five years."
She said her training regimen is quickly taking shape as her fight approaches. "I want to lose about 25 pounds," she said. Then she rattled off a workout routine that seemed endless: "Elliptical, stairmaster, sprints, interval training, weight training, shadowboxing, sparring, heavy bag, situps, pushups — a little bit of everything."
There is, of course, a mental component to her preparation as well. "I just kind of chill, get focused, go to bed earlier [before a fight]. No getting upset, no going out, nothing emotional. The kids [at school] are super supportive. They look out for me when they know I have a fight coming up. Like when their classmates are acting out, they go, 'Chill, Ms. Lamonakis has a fight!'"
The only time Lamonakis talks about money is when I bring it up. She appears to have made some level of peace with how men and women are paid and treated differently in the sport — and that it might be that way for a while. "Are we ever going to get on the level of guys?" she asked. "I don't think so. Rousey is helping the sport. But as far as men, I don't think we're ever going to get there."
She spends the rest of the interview extolling the virtues of the "hobby" she's grown to love. "I've found my path in life ... fighting and teaching. I'm very happy. I always try to tell people this about boxing — they think it's a violent sport, but it also teaches you how to control your anger, teaches you discipline. It takes a lot of courage, climbing into the ring with another person. And as bloody and bad as it can be, it's a beautiful sport. The journey it takes people on is really incredible."
It's hard to avoid the million-dollar question — or rather, the $10 million question, try as one might. "Would I walk away from my job if I were offered $10 million for a fight? Absolutely not," she said with conviction.
Then she added, smiling. "But I'd make room in my schedule for it."