Ben Carson Had a Lot to Say About Women, Gays and Transgender People in the Military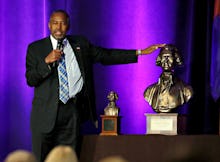 Addressing a crowd of veterans in Waterloo, Iowa, over the weekend, 2016 Republican presidential candidate Ben Carson shared his views on who is suitable for United States military service. Here's a hint: it's not a lot of people. 
Commenting on Obama's 2011 repeal of "Don't Ask, Don't Tell" as well as the recent lift of the military's ban on out transgender soldiers, Carson said that the U.S. military should not be a "laboratory for social experimentation." 
"We have too many important things to do," Carson said on Saturday. "When our men and women are out there fighting the enemy, the last thing that we need to be doing is saying, 'What would it be like if we introduced several transgender people into this platoon?'"
"Give me a break," Carson said. "Deal with the transgender thing somewhere else." 
Carson said that he agreed with the policy, started under President Bill Clinton, that barred gay and lesbian soldiers from serving openly in the military. Carson asked why soldiers need to go around "flaunting" their sexuality. 
"It's not necessary," he said. "You don't need to talk about that. We have to talk about how we're going to eliminate the enemy." While Carson did not state whether he would fight the policy's repeal, he did say that a Carson administration would run by its principles. 
Carson then turned to women in the military. He said he has a tendency to "want to protect" women and that he has too much respect for them to let them on the battlefield. 
Just last week, the U.S. military opened all combat roles to women. Carson, however, was hesitant to embrace women's military service. 
"I'm never going to say 'No,' to women," Carson said. "But, I'm very frightened when it comes to certain job descriptions, if we lower the standards. We have to have standards."
He continued, "If women can meet those standards and they want to meet those standards and they want to do that, I would never deny them. But what woman wants to go out on the front line in the dirt and the slime, fighting?" 
Carson added that, if they want to do it, he'd never deny them, but he would be "steadfast" about the requirements for these jobs.
You can watch the full video, courtesy of CBS News, below.