This Christmas Video of a Little Girl Asking Santa for Presents Is Going Viral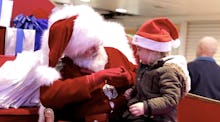 Get ready to feel all the feels, because this heartwarming moment between a mall Santa and a little girl with a hearing impairment is basically the best thing to ever happen.
The little girl and her family were getting their turn to sit with Santa at a U.K. mall over the weekend when mom cautioned Santa that her daughter might not be able to speak to him.
That's when Santa has the perfect response: He asks her family if she can sign.
That's when Santa turns to the girl and speaks to her, in sign language, about what she wants for Christmas. The look on her face when she realizes Santa can sign is enough to turn even the grinchiest Grinch into a total holiday believer.
The video was filmed at the Cleveland Centre, a mall in Middlesbrough, U.K., On Sunday the mall shared it on its Facebook page with the caption, "A beautiful moment we caught this weekend with Santa ... This truly captures the spirit of Christmas we feel at the Cleveland Centre whenever Santa visits!"
This isn't the only mall Santa moment to go viral this holiday season. Last week in Charlotte, North Carolina, a mall Santa got down on the floor to play with a little boy with autism to help put him at ease.
Moments like these are a perfect reminder that the holidays are about giving a lot more than presents. Here's the full video: