Hulu Christmas Movies 2015: Your Guide to the Best Streaming Holiday Movies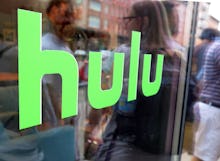 Hulu is one of the many streaming sites and television channels loading up on Christmas movies this holiday season just in time to never get out of bed as cold weather approaches and binge on all of them. A few classics and a wide selection of lesser-known Christmas movies can be streamed on Hulu right now. Here's the best of them.
Hulu is streaming a colorized version of the 1935 classic Scrooge, Tyler Perry's A Madea Christmas and some randoms like 2013 My Santa starring the Samaire Armstrong, who played Anna Stern on The O.C., and a Christmas special from the Wiggles.
A Hulu Plus subscription costs $7.99 per month and currently offers a free one-week trial.
Here are some of the best holiday movies streaming on Hulu this season:
Scrooge (1935)
Tyler Perry's A Madea Christmas (2013)
Yes, Virginia (2009)
The Man Who Saved Christmas (2002)
Beyond Tomorrow (1940)
A Christmas Tale (2008)
Keith Lowell Jenson: Atheist Christmas (2014)
A Princess for Christmas (2011)