Fox Business' Lt. Col. Ralph Peters Calls President Obama a "Total Pussy" on Air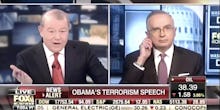 A Fox Business commentator was suspended from appearing on the network for two weeks after a controversial soundbite nearly slipped under the radar in a wave of Monday morning news. Lt. Col. Ralph Peters took to Varney & Co. following Sunday night's presidential address, denouncing the White House administration's efforts to halt terrorism and calling the President of the United States a "total pussy."
Peters was brought on to Fox Business host Stuart Varney's morning show to discuss President Barack Obama's address from the Oval Office, a rare moment in Obama's tenure as head of state in which he discussed his administration's efforts to halt global terrorism, as well as encouraged congress to pass stricter gun laws. However, the retired U.S. Army lieutenant colonel and conservative media commentator clearly wasn't impressed, relentlessly describing his immediate reaction to the president's speech.
"Well, first of all, he [President Obama] keeps speaking about, 'We can't give in to our fears, you know, don't be afraid,'" Peters said on the show. "Look, Mr. President, we're not afraid; we're angry! We're pissed off! We're furious! We want [you] to react! We want you to do something! You're afraid!" he shouted, with Varney agreeing all the while, "Yes, yes, yes."
"I mean, this guy is such a total pussy, it's stunning!" Peters shouted. "We the people — the American people, whom he does not know in any intimate sort of manner — we want action! We want action against Islamic State. And then — then — when the president's telling us, you know, he is going to destroy ISIS. This is a president who has done more harm to American police departments than he has done to Islamic State. This is a president who restrains our military."
Varney later interjected, saying, "I can tell you are super angry, and I asked you what your reaction was but I gotta call ya: You can't use language like that on the program, OK? I'm sorry ... moving on."
His segment on Fox Business' Varney & Co. follows Obama's third presidential address from the Oval Office, in which Obama outlined a tactical plan to defeat ISIS and other terror groups. That plan includes things like continued air strikes, continued training and equipment for forces on the ground fighting ISIS, pursuing diplomatic resolutions to the Syrian civil war, working with allies in the Middle East while maintaining strong relations with the Muslim community and hunting down terrorists across the world. 
Though it's unclear what specific legislation Peters was referring to when he said the president has spent his time in office damaging police forces nationwide, this isn't the first time Peters undermined the president on a national news program. Media Matters reported the Fox analyst also described Obama as being "just not manly enough to combat terrorism." He also deemed the entire White House administration "bitchy high school girls" following the Obama administration's response to Israeli Prime Minister Benjamin Netanyahu's March address, Media Matters reported.
Dec. 7, 2015, 4:45 p.m. Eastern: This story has been updated to include Peters' suspension from the Fox Business network.