Here's How Nicki Minaj's "Miley, What's Good?" Derailed Cyrus' Career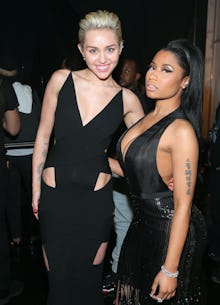 Whether it's "I love you," "E.T. phone home," or "Where's the beef?", there's something about three-word phrases that makes them stick in our minds. No three words this year cut quicker than "Miley, what's good?" the clapback that ignited millions of Twitter fingers and left Miley Cyrus, host of the 2015 MTV VMAs, slack-jawed. Cyrus' tongue has yet to roll back into her mouth.
But the story was many months in the making. In February 2015, Minaj and Cyrus shared the camera, and the teleprompter, to introduce queen bee Madonna at the Grammy Awards. Though not great friends, Minaj and Cyrus posed for pictures together and seemed cool. 
Minaj and Cyrus have also been in cultural conversation together for some time. While Cyrus spent the latter part of 2013 and most of 2014 twerking her way through the internet's headlines, Minaj broke the internet, and Cyrus's VEVO 24-hour record, with her video for "Anaconda," a video featuring a bevy of black skin that was less exploitative and more celebratory. 
Their narratives leading up to the VMAs couldn't have been more different. For Cyrus, this was to be a crowning third act: At the 2013 VMAs, she opened the show with the twerk heard 'round the world. In 2014, she closed the show with a win for Video of the Year for "Wrecking Ball" and sent a homeless queer youth to accept her award. On July 20, Cyrus announced that she'd be back to host the whole kit-and-caboodle. 
One day later, titans clashed when Taylor Swift interrupted Minaj's now-infamous Twitter takedown of the VMAs for her lack of a video of the year nod for "Anaconda." 
Going into the show, Nicki had several nominations and had nabbed the opening performance spot for the second year in a row. During her performance of her latest single, "Trini Dem Girls," the music world got the resolution it wanted: Minaj and Swift joined each other on stage to sing Minaj's "The Night Is Still Young" and Swift's "Bad Blood." 
With her beef squashed, Minaj took a slow stroll to the stage after Rebel Wilson announced that she won the VMA for "Best Hip Hop Video" for "Anaconda." It was then that Minaj called Cyrus out for an interview she gave to the New York Times in which she painted an unflattering picture of Minaj, calling the hip hop queen "not too kind." To that, Minaj had a simple question: "Miley, what's good?" 
Minaj clearly left Cyrus flustered.
Cyrus attempted an apology, said "congratu-fucking-lations," and then downplayed the very awards show she was tapped to host. When Cyrus read the nominations for the artist to watch award, she attempted a paltry reply to Minaj's fiery call-out: "I lost this award back in 2008 and I was fine with it. Whatever, because it's no big deal! It's just an award and I persevered!" 
But it was too late. Minaj's jabs landed. Cyrus stumbled, and never really recovered her footing throughout an underwhelming show. 
The Internet rushed to Minaj's side, the definitive sign Cyrus lost. Somehow, Cyrus had become the stuffy old host and Minaj had become the queen of the people. She was the online Evita, and in that moment, we didn't cry for her. We applauded.
In fact, antics perhaps seen as cute or benign at the beginning of the night began to appear racist, or at least misguided and confusing, by the show's end. Cyrus's outfits were too big, her antics too brash and her braids too faux to ignore.
Though two years old, wounds from Cyrus's past behavior all-too-fresh. The thinkpiece deluge from post-2013 VMAs now seemed less reactionary and more portentous. Cyrus used black women as minstrel-esque sidepieces to her main carnival show. Now, two years later, Cyrus painted Minaj as an uppity black woman and got her hair done into bleach blonde locks. 
In asking "Miley, what's good?" Minaj became the black woman who finally publicly responded to Cyrus's taunts. Minaj was the faceless background twerker, the Cyrus-flanking video vixen. Minaj was every black woman Cyrus wronged made flesh. And Cyrus would not walk away from this one with a platinum single. 
Cyrus ended the night with a garish performance of a new song "Dooo It!" flanked by an army of drag queens, subsequently releasing her new album Miley Cyrus and Her Dead Petz for free. Twenty-three tracks comprised the bloated album, which asked for more than an hour of listeners' time. Not all the time was rewarding.
Source: Soundcloud
After middling reviews, Cyrus spent the rest of her year on a quiet theatre tour. Her New York tickets cost $69.69, and concertgoers were treated to a plethora of unicorns and dildos. As of this writing, tickets are still available for Cyrus's final show in Los Angeles. 
Minaj's end-of-year shined in comparison. She became the first rapper to cover the New York Times Magazine since Tupac. She garnered three Grammy nominations. She read a Maya Angelou poem at concerts to end racism. Minaj answered questions about Cyrus with clear, thoughtful, analytical answers. 
"The fact that you feel upset about me speaking on something that affects black women makes me feel like you have some big balls," Minaj told the Times. "You're in videos with black men, and you're bringing out black women on your stages, but you don't want to know how black women feel about something that's so important?" 
Minaj continued, "Come on, you can't want the good without the bad. If you want to enjoy our culture and our lifestyle, bond with us, dance with us, have fun with us, twerk with us, rap with us, then you should also want to know what affects us, what is bothering us, what we feel is unfair to us. You shouldn't not want to know that.''
She ended the interview by telling her profiler, Vanessa Grigoriadis, to leave her limo for asking what Minaj called a "stupid question." In that moment, it's clear why Minaj triumphed in this moment and why Cyrus failed. 
Despite efforts to pit her against Swift or Cyrus, the media should know that Minaj is not interested in being dragged into simple squabbles. Rather, Minaj has conducted a year-long masterclass in keeping a tight grip on one's narrative. She was the pop-culture professor of the year.
Truly, I ask you: Miley, what's good?
Read all of Mic's year-in-review coverage here.