Nada Surf Have a New Album, 'You Know Who You Are.' This Is What We Know About It.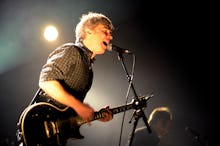 Veteran alt rock band Nada Surf is returning to the scene with their seventh LP, You Know Who You Are, on March 4, according to a Wednesday post on the band's website. It will be the first album released by the current lineup — Matthew Caws, Ira Elliot, Dave Gillard and Daniel Lorca — BrooklynVegan reported.
"With every Nada Surf record, we just want you to keep coming back to it," Drummer Ira Elliot told the Village Voice. "And sing with it in the shower forever and ever." With the album, the band also wants a "major roll-out, the kind of which we haven't seen in 10 years," he added. 
The album was produced by Tom Beaujour with Nuthouse Recording, Diffuser.fm reported. 
The new album will be available for purchase via iTunes. Here's the album's track list, via the Four Oh Five:
1. "Cold to See Clear"
Released single: On Wednesday, Nada Surf released a single, "Believe You're Mine," off the 10-song album. according to Stereogum.
Source: Soundcloud
Last album: The Stars Are Indifferent to Astronomy, the group's last album — when the band was sans Gillard — dropped back in 2012, via NPR. The band members were in their early 40s at the time. They went on tour that year, according to label Barsuk Records. 
New tour: A North American and European tour starting in Sweden will accompany the album beginning spring 2016. The first round of dates have been released. 
Tickets can be purchased on the band's site, with the tour dates posted below:
March 31 — Stockholm - Kagelbanan 
April 1 — Oslo, Norway - John Dee
April 3 — Hamburg, Germany - Mojo
April 4 — Koln, Germany - Live Music Hall
April 6 — Dortmund, Germany - FZW
April 7 — Amsterdam - Melkweg
April 9 — Manchester, U.K. - Deaf Institute
April 10 — Glasglow, U.K. - King Tuts
April 11 — London - Electric Ballroom
April 12 — Tourcoing, France - Grand Mix
April 14 — Strasbourg, France - Laiterie 
April 17 — Stuttgart, Germany - LKA
April 18 — Berlin - Huxley's 
April 19 —  Nuremberg, Germany - Hirsch
April 20 — Vienna - WUK
April 21 — Munich - Muhffathalle 
April 22 — Zurich - Dynamo
April 24 — Milan - Salumeria Della Musica 
April 25 — Grenoble - Belle Electrique 
April 26 — Feyzin, France - L'Epicerie Moderne
April 27 — Krakatoa - Bordeaux, France
April 28 — Madrid - Barcelo
April 29 — Galicia, Spain - Pontevedra Theatre
April 30 — Bilbao, Spain - Antxoki
May 12 — Chicago - Thalia Hall
May 13 — Minneapolis - Fine Line Music Cafe
May 14 — Omaha, Nebraska - Waiting Room
May 17 — Vancouver, Canada - Venue
May 18 — Seattle - Neptune Theatre
May 19 — Portland, Oregon - Doug Fir Lounge 
May 20 — San Francisco - Great American Music Hall
May 21 — Los Angeles - Teragram
May 22 — San Diego - Irenic
May 24 — Denver - Bluebird
May 25 — Kansas City, Missouri - Crossroads
May 27 — Austin, Texas - Parish
May 28 — Dallas - Granada
June 1 — Washington, D.C. - 9:30 Club
June 2 — Philadelphia - World Cafe Life
June 3 — Toronto - Lee's Palace
June 4 — Boston - Paradise