Ronald Johnson Chicago Shooting Case Update: No Charges to Be Filed Against Officer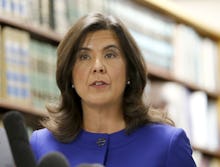 There will be no state charges filed in the October 2014 police shooting of Chicago resident Ronald Johnson III, prosecutors announced on Monday. The news follows last week's announcement by Chicago mayor Rahm Emanuel that the police dashcam video of Johnson's death would be made public. The dashcam video of Johnson's death was released Monday.
"No criminal charges should be filed because the crime cannot be proven beyond a reasonable doubt," said Cook County State's Attorney Anita Alvarez in announcing the latest developments regarding Johnson's shooting death.
Lawyers for Johnson's family have been advocating for the video's release for over a year, the Chicago Tribune reported. Johnson, 25, died after being shot by officers in Chicago's South Side. The video, captured by the dashboard camera of a police cruiser, reportedly shows Officer George Hernandez of the Chicago Police Department shooting Johnson in the back as he runs.
The news that no charges will be filed in Johnson's death comes on the heels of the indictment of CPD Officer Jason Van Dyke for first-degree murder in the 2014 death of 17-year-old Laquan McDonald. The dashcam video of McDonald's death was made public following the charges against Van Dyke.
This is a breaking news story and will be updated.