The 12 Best Tweets That Describe the Beyhive as They Anticipate a New Beyoncé Album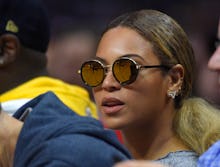 Monday seemed like the perfect day for Beyoncé's much-anticipated album to drop. The numbers were aligned; it was the fourth day of the fourth month in a year that ends in 16. It was also her eighth wedding anniversary. 
But the day came and went. And Twitter users were definitely in their feelings:
Read more: Beyoncé Lays to Rest "Formation" Video Controversy: "I Am Against Police Brutality"
Then, after Tidal tweeted on Monday evening that a Top Dawg Entertainment artist would release an album, several fans quickly got their hopes up. Blinded by the prospect of a new Bey album, users read right over TDE — or didn't know that it's is home to artists like Kendrick Lamar, SZA, Jay Rock, Schoolboy Q and others:
Also on Monday night, while #CryingJordan was taking over Twitter during the NCAA championship, the meme even got in "Formation":
The Beyhive has been sleeping light since Beyoncé released a surprise music video just days before her epic Super Bowl performance. We'll continue to wait by our phones and computers like this: