9 Powerful Images From the Anti-Terrorism Rally You Didn't See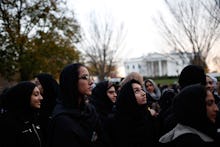 Muslims of all factions merged with a Shiite religious gathering on Sunday to rally for peace and demonstrate against Islamic extremism. The gathering came just five days after the mass shooting in San Bernardino, California, and hours before President Barack Obama's Oval Office address about combating the Islamic State group.
Shiite Muslims gathered in the vicinity of the White House to mourn the 680 AD martyrdom of Imam Hussein, the Prophet Mohammad's grandson, and the reason for Islam's splintering into Sunni and Shiite sects. But before long, the gathering transformed into an anti-terrorism rally, many toting placards which read, "Muslims Against ISIS."
Other signs read "American Shia Muslims stand with the victims of San Bernardino" and "Americans unite against Wahhabi terrorism." (Wahhabism is a radical form of Islam exported from Saudi Arabia that forms the basis for many existing extremist groups.)
"I think it's always empowering when Muslims of all variety can stand together and reaffirm that the extremist ideology of ISIS is completely different from the peaceful faith of over a billion Muslims worldwide," Robert McCaw, government affairs department manager for the national chapter of Council on American-Islamic Relations, told Mic.
"What's happening now is we feel even more compelled to come out of our homes ... and stand with people who are oppressed," Zehra Raza, a 27-year-old electrical engineer, told the Washington Post. "ISIS is the same as what Hussein was fighting 1,400 years ago."
After the rally, protesters handed out food and hot chocolate to passersby in an effort to engage them.
"While [CAIR] didn't technically organize this rally — we've had our own — I'm really happy they're empowered and have organized," McCaw said. "But, generally, I look forward to a day when the Muslim community doesn't have to stand up and condemn every act of terrorism because the public knows it doesn't represent Muslims, just as Christians aren't held responsible for acts of violence committed by Christian extremists."
Islamophobia has been on the rise in swaths of the United States, embedding itself in rightwing political rhetoric. On Monday afternoon, for example, GOP presidential candidate Donald Trump called for a "total and complete shutdown" of incoming Muslim immigrants.
However, a counter-narrative which preaches inclusion as the best way to fight terrorism is gaining traction. 
"The Islamic State are operating on the same fascist principles as Hitler, saying Muslims are the superior race and telling them they are different from everyone else," Farhan Khan Virk, a Pakistani Muslim politician and activist told Mic, adding that isolating the Muslim community only augments ISIS' message of exclusion, he explained.
"The West must realize we need to live together," Virk added. "Muslims need to be integrated into the community as equals, they need to be respected — otherwise, nothing can be done to make a real change."