Looking for Legal Marijuana Without Visiting a Doctor? EazeMD Can Help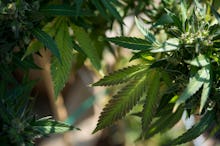 For $30, those in need of marijuana for medical purposes in California can now get a doctor's recommendation without leaving the couch. San Francisco-based weed delivery service Eaze launched an EazeMD app on Monday that allows users to have marijuana prescribed to them by a doctor via a quick video chat. 
"I had a fantastic experience during my online consultation through EazeMD to obtain my medical recommendation," one user wrote in a review for the app on iTunes. "The doctor was very professional, concise and knowledgable. Highly recommend." 
Here's how it works. Users fill out standard medical forms on the app before getting connected to a doctor for a video chat consultation. The doctor can grant a referral for $30 on the spot, and once that happens, the user can instantly place an order for marijuana for delivery on the website. 
The app is available for Android and iOS.
These two images, via iTunes, sum up how the app works:
The service charge is significantly cheaper than what average San Francisco clinics require, Engadget reported.
Eaze, nicknamed "Uber for weed," earned $10 million in an investment round in which rapper and marijuana lord Snoop Dogg's venture firm, Casa Verde Capital, participated, Quartz reported in April. The service doesn't grow or sell the marijuana, just delivers it for dispensaries.