'Star Wars: The Force Awakens' Tickets: Tips for Finding a Theater Opening Night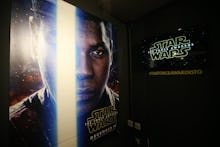 Fans still looking for tickets to the opening night of Star Wars: Episode VII — The Force Awakens on Dec. 18 need to make moves and fast. Advance tickets went on sale Oct. 19 and are still available at theaters worldwide on StarWars.com (via Fandango, MovieTickets and IMAX in the U.S.). The Force Awakens, directed by J.J. Abrams, is the first Star Wars installment in 10 years
Harrison Ford and Carrie Fisher will be returning as Hans Solo and Princess Leia, with Mark Hamill as Luke Skywalker. 
"The only words to describe the first day of IMAX worldwide advance ticket sales for Star Wars: The Force Awakens are 'record-shattering,'" IMAX Entertainment CEO Greg Foster told the Hollywood Reporter. IMAX charted record sales of $6.5 million on the first day. 
According to Entertainment Weekly, Fandango clocked "unprecedented ticket sales" as early as October, outpacing previous record-holders The Dark Knight Rises, The Hunger Games: Catching Fire and The Avengers. Hollywood Reporter also said that MovieTickets.com posted sales figures "three times higher than at any point in the company's 15-year history" on night one. The International Business Times reported that "AMC Theaters reported selling at least 10 times more advance tickets for the Star Wars sequel than its previous record holder," with scalped tickets going for as much as $200 a pop. 
Indeed, New York fans who want to see the movie a day early — on Thursday, Dec. 17 — could be looking at what may be the most expensive IMAX experience of their lives, as evidenced by these Craigslist offerings:
Tickets are still available on StubHub and eBay for slightly more reasonable prices but fans who want to keep costs low should head to Fandango, MovieTickets, AMC and/or IMAX as soon as possible, lest they find themselves priced out of opening weekend screenings.