Dictionary.com's Word of the Year Is 'Identity' — Here's Why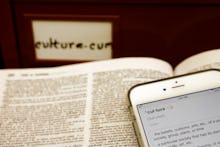 This year, the word "identity" joins an exclusive club of words. It is Dictionary.com's word of the year. 
The word, chosen by a group of lexicographers — people who write the dictionary — best encapsulates many of the themes in 2015. Dictionary.com specifically cited stories about Caitlyn Jenner, marriage equality, Transparent's Emmy win, Miley Cyrus's pansexual coming-out and Rachel Dolezal as "cultural conversations" that led users to look up identity-related words more than ever. 
Users looked up about 5.5 billion words this year on Dictionary.com, and Mic spoke to Jane Solomon, one of its lexicographers, about its pick of the year. 
"There's this meaty, linguistic aspect of the way we talk about identity that's changing," Solomon told Mic. "New questions have emerged like, 'What's the proper pronoun to use?' and 'Is it okay to use the singular they?' Suddenly this has reached the mainstream, and it's become a question that many more people are pondering this year than before." 
A team of lexicographers monitors every conversation going on — in the arts, in the news, online — and words looked up on Dictionary.com. Solomon referenced the Washington Post's adoption of the singular "they" as another indication that the media was shifting the conversation regarding identity. The dictionary's job, according to Solomon, is not to start conversations, but to reflect them. 
Dictionary.com already includes the singular "they" in their usage, but according to Solomon, the definition will soon be updated to point to its usage in regard to gender pronouns. 
Dictionary.com has made other additions this year, as well: According to Solomon, words related to gender like bigender and agender were added. They also added a usage note for the term "identify as" and a new race-conscious definition of the word "code-switching." 
According to the latest definition, code-switching is "the modifying of one's behavior, appearance, etc., to adapt to different sociocultural norms." 
"It's not as if identity hasn't been an informed concept before this year," Solomon said. "But the editorial team chose this word this year because we really sort of focused on how the theme of identity really entered the mainstream conversation this year." 
Solomon said that the dictionary's constant reflection of the changing English language means that, unlike what conventional wisdom might believe, the dictionary is always changing. 
"The dictionary has to be a living, breathing, changing thing because it reflects the English language, which is a living, breathing, ever-changing thing," Solomon said. 
Because it's always changing, it doesn't really matter if some of the words the dictionary captures are only temporary slang terms. Dictionary.com adds words every year, but they never delete. 
"We view that word as a relic of the English language of when that word was spoken, and that's just as valuable to us," Solomon said. "To lexicographers, all words are equal. You put the same care researching a slang word as you do researching a word that is more formal." 
Solomon has said that she's seen feedback from users of Dictionary.com who are happy to see themselves reflected in the dictionary's updates. 
"We got some comments from users thanking us," she said. "People who identified as one of the words we added, they were really thankful that they were there. There is some sense that if it's in the dictionary, it's legitimate." 
Of course, while some might look to the dictionary for legitimacy, we all use the dictionary differently, Solomon said. Solomon can tell whether someone is reading Lord of the Flies, whether they are pondering the concept of love or if they are just confused about the difference between "affect" and "effect." 
How someone uses the dictionary might just depend, it seems, on their identity.