'Mystery Science Theater 3000': Here's Everything We Know About New Episodes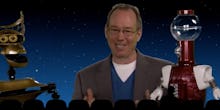 The time is right. Joel Hodgson is bringing back to life his sci-fi television comedy series Mystery Science Theater 3000, or the easier-said MST3K, with the help of a grassroots Kickstarter campaign, CNET reported. The show, which initially ran from 1988-1999, will feature the same characters as the original but probably not the same cast. Some of the announced newbies joining the series are Patton Oswalt as the evil henchman, Jonah Ray in an unannounced role and Felicia Day as Dr. Forrester's daughter.
"If we team up with the fans to get it up and running again, it will prove there's a real audience," Hodgson said in the campaign video. "And then it'll be a lot easier to find those open-minded executives to support the show...for cable or an online platform, so a whole new generation can find it."
To complete the 12-episode season, Hodgson says he needs $5.5 million, according to his Kickstarter page. As of Monday, the campaign had over 32,000 backers pledging around $3.9 million to the cause, which will pay for six episodes. The campaign ends on Friday, Dec. 11.
About 30% of the money will go toward fulfilling the rewards promised to the Kickstarter backers, and the rest actually to MST3K, Hodgson wrote during a Dec. 1 Reddit AMA.
Helping the MST3K effort is comedy video house Shout! Factory, which bought the rights to the show last month, Variety reported.
"This is a momentous acquisition for us," Shout! Factory founders Richard Foos, Bob Emmer and Garson Foos said in a statement. "We've been pursuing this deal for many years, and we're thrilled that it's finally coming to fruition. We see that there's still tremendous untapped potential for the 'MST3K' brand. We're looking forward to the next phase of 'MST3K' with Joel."
In its heyday, the 198-episode MST3K was nominated for two writing Emmy awards, Variety reported.