Donald Trump Calls for "A Total and Complete Shutdown" of Muslims Entering the US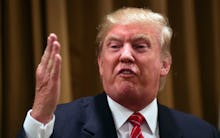 After terrorist attacks in Paris and San Bernardino, California, kicked off a rhetorical race to the bottom among Republican presidential candidates, no candidate has demonstrated as fervent a commitment to winning that race than billionaire frontrunner Donald Trump.
The candidate has suggested that, in order to prevent future terrorist attacks, the federal government should be able to close down mosques, register American Muslims and establish a database containing their identities. In an appearance on Face the Nation on Sunday, Trump called for increased surveillance of Muslim communities, organizations and mosques by law enforcement and national intelligence agencies, as well as police profiling of Arab Muslims.
"I think there can be profiling," Trump said. "A lot of people are dead right now ... everybody wants to be politically correct, and that's part of the problem that we have with our country." He then added, "You have people that have to be tracked. If they're Muslims, they're Muslims."
But a statement released by his campaign on Monday may be Trump's most forceful stance on the issue yet. In a press release sent, Trump announced that he is called for a "total and complete shutdown" of immigration by Muslims into the United States "until our country's representatives can figure out what is going on."
"Without looking at the various polling data, it is obvious to anybody the hatred is beyond comprehension," Trump said in the release. "Where this hatred comes from and why we will have to determine. Until we are able to determine and understand this problem and the dangerous threat it poses, our country cannot be the victims of horrendous attacks by people that believe only in Jihad, and have no sense of reason or respect for human life. If I win the election for president, we are going to make America great again."
Trump may have given a preview of his new anti-terrorism policy at a campaign event in Davenport, Iowa, on Saturday. Addressing the fact that the two alleged attackers were inspired by — if not materially supported by, the Islamic State militant group — Trump was scatologically concise. "That shit is not going to happen any more," Trump told the cheering crowd of 2,500 people. "We're going to be so vigilant. We're going to be so careful. We're going to be so tough and so mean and so nasty."
The statement cites a poll conducted by the Center for Security Policy, a Washington, D.C.-based think tank based frequently accused of propagating conspiracy theories, which purports to demonstrate that 25% of American Muslims agree that violence against Americans is "justified as a part of the global jihad." The poll, released in June, also asserts that 51% of those polled "agreed that Muslims in America should have the choice of being governed according to shariah [law]," a legal framework in which laws and personal conduct are dictated by Islamic religious teachings.
Trump followed his campaign's release of the "very important policy statement" with a tweet:
The statement doesn't clearly specify whether Trump's proposal would apply specifically to Muslim immigrants from other nations, or whether it would entail a blanket ban on any Muslims, including American citizens, from entering the country for any reason whatsoever. Trump campaign manager Corey Lewandowski told the Associated Press that Trump's proposed ban would apply to "everybody," including Muslims seeking immigration visas as well as tourists seeking to enter the country.
In response to a request for additional details on how the U.S. government might determine the religion of someone wishing to enter the U.S., Trump's spokeswoman told the AP, "Because I am so politically correct, I would never be the one to say. You figure it out!"
Mic has reached out to Trump's campaign spokeswoman for further comment and clarification.