'Black Panther' Movie: Plot, Cast Info and Release Date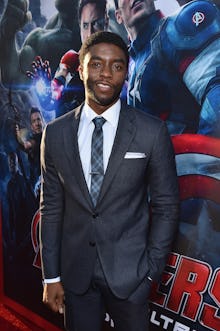 The prolific filmmakers at Marvel have audiences buzzing about an upcoming Black Panther movie, the first feature film centered around the character. Marvel announced in October that Black Panther will be released in February 2018.
Cast: Chadwick Boseman (Get on Up, Draft Day) will star as the titular superhero. "It's the right time for the character to emerge and to have his own life, so I'm really, really excited for it," Boseman told Entertainment Weekly in a 2014 interview. "And I just feel it can be done the right way right now."
Boseman will make his début as Black Panther in the upcoming Captain America: Civil War, due out in 2016. 
Plot: There are scant details about the plot of the Black Panther film but according to Marvel's official backstory for the character, Black Panther is actually T'Challa, heir to the fictional African nation of Wakanda. "T'Challa is a brilliant tactician, strategist, scientist, tracker and a master of all forms of unarmed combat," reads the character's bio on Marvel's website.
Who will direct? No director has officially signed on yet for the movie. Selma director Ava DuVernay reportedly met with Kevin Feige, Marvel Studio's president of production, to discuss directing the film, but told Essence in July that she passed on the project. 
This month rumors surfaced that Ryan Coogler, director of Fruitvale Station and Creed, was considering directing Black Panther, but the news remains as-yet-unconfirmed by Marvel.