Minnesota Expands List of Qualifying Conditions for Medical Marijuana Prescription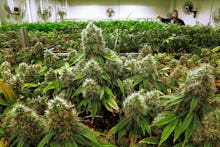 Medical marijuana won a small victory in Minnesota on Dec. 2, when the state expanded its short list of qualifying conditions for a cannabis prescription to include intractable pain. A state panel had previously voted 5-3 against the addition in early November, so Minnesota Health Commissioner Ed Ehlinger's decision is a welcome one for medical marijuana advocates.
"The relative scarcity of firm evidence made this a difficult decision," Ehlinger said in a Department of Health statement. "Given the strong medical focus of Minnesota's medical cannabis program and the compelling testimony of hundreds of Minnesotans, it became clear that the right and compassionate choice was to add intractable pain to the program's list of qualifying conditions. This gives new options for clinicians and new hope for suffering patients."
According to the statement, intractable pain is defined as "a condition 'in which the cause of the pain cannot be removed or otherwise treated with the consent of the patient and in which, in the generally accepted course of medical practice, no relief or cure of the cause of the pain is possible, or none has been found after reasonable efforts.'" 
Minnesota legalized medical marijuana with its restrictive medical marijuana law in May 2014. The state's first dispensary, the Minneapolis Medical Solutions clinic, opened July 1, 2015. As of Dec. 3, just under 800 people had been cleared to use medical marijuana under a program that was stringent in its terms: Before the addition of intractable pain, patients struggling with glaucoma, HIV, ALS, Tourette's syndrome, Crohn's disease, "severe and persistent spasms," seizures, cancer and terminal illness — but only for those with "severe pain, nausea and wasting," in the latter two instances — were eligible for medical marijuana prescriptions. 
Even then, marijuana would not be acceptable in smokeable form. Patients could procure cannabis pills, oils and liquids via two providers (Leafline Labs and Minnesota Medical Solutions), but only after securing a certification from a state-registered medical practitioner. Advocates hope that the latest expansion will help "breathe new life into the state's MMJ industry," according to Marijuana Business Daily, which hopes that fewer restrictions will buoy the state's flagging MMJ economy.