Martin O'Malley Calls Donald Trump a Fascist Over Trump's Latest Attack on Muslims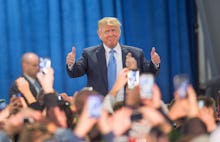 Republican presidential front-runner Donald Trump on Monday proposed a "total and complete shutdown" of Muslims entering the United States, signaling yet another xenophobic turn in the billionaire showman's campaign and drawing the wrath of fellow presidential candidates.
Former Maryland Gov. Martin O'Malley, who has vociferously attacked Trump in an attempt to gain traction in his Democratic presidential bid, came out swinging at the real estate tycoon and reality show star. Within a half hour of Trump's proposal, O'Malley called the GOP poll-leader a "fascist demagogue":
Sen. Bernie Sanders (I-Vt.) likewise condemned Trump's comments, saying in a statement, "Demagogues throughout our history have attempted to divide us based on race, gender, sexual orientation or country of origin. Now, Trump and others want us to hate all Muslims. The United States is a great nation when we stand together. We are a weak nation when we allow racism and xenophobia to divide us."
Democratic front-runner Hillary Clinton said Trump's proposal was "reprehensible, prejudiced and divisive," and echoing President Barack Obama, wrote that such Islamophobia makes the U.S. "less safe":
Meanwhile, Trump's proposal has yet to garner support from a single Republican rival, even as the party's candidates have come to embrace new restrictions on refugees and heightened surveillance of Muslim communities in the wake of terror attacks in Paris and San Bernardino, California.
Sen. Ted Cruz (R-Tex.), who bested Trump by five points in a Monmouth University poll of Iowa Republicans released Monday, touted his proposal to halt the flow of refugees into the U.S. while saying that Trump's call for disallowing any Muslims to enter the U.S. — including, apparently, American citizens returning from abroad — was "not my policy."
Former Florida Gov. Jeb Bush called Trump "unhinged," while Ohio Gov. John Kasich called Trump's proposal "just more of the outrageous divisiveness that characterizes his every breath."