People Are Leaving Severed Pigs' Heads in Mosques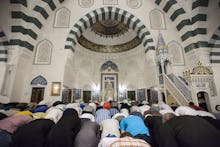 An employee at the Al Aqsa Islamic Society mosque in North Philadelphia found a bloodied, severed pig head, an object Muslims consider insulting to dietary laws, around 6 a.m. Eastern on Monday, the Philadelphia Inquirer reports. 
A surveillance camera captured a red pickup truck driving by the mosque twice on Sunday night. On the car's second go-round, an object flew from the passenger's side.
Philadelphia police are leading an investigation. 
"We've got to be involved," Officer Pete Berndlmaier told the Philadelphia Inquirer. "If they get away doing something like that, they are going to up the ante."
"Attacks on any religious institution is an attack on all of us," Marwan Kreidie, head of the Arab American Development Corp., told the paper. "A pig's head doesn't do much. Could the next thing be a pipe bomb?"
The mosque's caretaker told the Philadelphia Inquirer that an anonymous caller called Allah "a piece of pork s---" in a voicemail left after the Nov. 13 attacks in Paris. 
Majdi Faleh, a student at the University of Western Australia, discovered a severed pig's head lodged into the university mosque's toilet on Saturday, ABC News reported. 
Faleh said that it was not the choice of animal but the message that unnerved him. "There clearly is motivation of these people trying to say you're not welcome here, or some similar message," he said.
"It is concerning that people using the UWA Muslim prayer room have been targeted in this way," a university spokesman told ABC News. Student groups, including the UWA Student Guild and the Muslim Youth, also condemned the attacks.