Metallica New Album 2016: News and Latest Updates Around Metallica's Next Record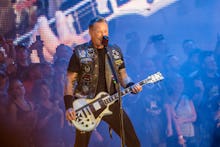 Heavy metal band Metallica has a new album in the works, and it will arrive "in 2016, and at the very worst, at the beginning of 2017," guitarist Kirk Hammett announced in a radio interview in November, according to Loudwire.
Metallica hasn't released a new studio album since 2008's Death Magnetic, the band's ninth album, which opened at No. 1 on the Billboard 200 chart, selling almost half a million copies in its first three days. In 2009, the band was inducted into the Rock and Roll Hall of Fame.
Metallica hasn't yet announced a tour for 2016, but the band will play a single show in February at San Francisco's AT&T Park, according to their website. Tickets have already sold out.
On the official Metallica website, subscribers to the "Met Club" can reportedly see video of the band in the studio, apparently at work on its upcoming album. So far though, beyond a tentative release date of 2016 or early 2017, there are few details about the next Metallica album.