Radiohead's New Album Is Not Here Yet, But Here's What We've Learned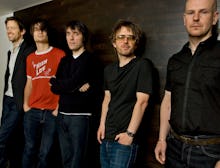 In October, Russian radio station Silver Radio disappointed fans of English rock outfit Radiohead with a translation hiccup, wrongly quoting guitarist Jonny Greenwood as saying the band's ninth album was nearly complete. 
"We have finished recording of the new album but we keep reevaluating the work we've done," Greenwood reportedly said, according to Consequence of Sound. "We hope we'll get it right soon, and after that we'll start planning the next year's tour." That quote wasn't quite right. Greenwood quickly took to Twitter and explained himself. Bandmates Thom Yorke, Philip Selway, Ed O'Brien, Colin Greenwood and Greenwood had compiled a lot of material, he said, but there was no finished product yet nor had the group made firm plans to tour.
Track list? In 2014, whisperings of a new Radiohead LP (which Pitchfork bills as a "follow-up to 2011's The King of Limbs") surfaced. Greenwood was trading song ideas with frontman Yorke via email. NME reported that Greenwood had told BBC Radio Oxford the new album was in its fledgling phase last November. Citing a fan-translated interview between the guitarist and a Dutch broadcasting channel (3voor12), Consequence of Sound reported that Greenwood possibly named at least one track that may appear on the new album: "Lift," a song Consequence of Sound stated "dates back to 1996." 
"What people don't know is that there's a very old song on each album, like 'Nude' on In Rainbows," Greenwood said, Consequence of Sound reported. "We never found the right arrangement for that, until then. 'Lift' is just like that. When the idea is right, it stays right. It doesn't really matter in which form."
Radiohead fan site Citizen Insane has a list of 12 potential tracks for album No. 9:
1. "Identikit"
2. "Cut a Hole"
3. "Skirting on the Surface"
4. "The Present Tense"
5. "Burn the Witch"
6. "Come to Your Senses"
7. "I Lie Awake"
8. "[Riding the Bullet]"
9. "Open the Floodgates"
10. "Follow Me Around"
11. "[Wake Me (Before They Come)]"
12. "Ful Stop"
The band has not given any official word on the track list, so the above maybe be little more than wishful thinking. But on Monday, the Independent speculated on Yorke's debut of two possible tracks for the new album — entitled "Silent Spring" and "Desert Island Disk" — at Pathway to Paris, where he played a solo show in conjunction with this month's U.N. climate talks in the French capital. The Independent is careful to clarify that "these tracks may just be victim to idle rumors," but adds that Yorke nodded to a part in "Silent Spring," which the singer said was meant to be played by Greenwood. 
When? The band also hasn't said when the album will come out. Although fans had eagerly awaited it in 2015, it doesn't look likely that the next couple of weeks will bring an eleventh-hour Radiohead surprise. Band members are occupied with other projects: Greenwood recently released the album Junjun with singer-composer Shye Ben Tzur and Indian music group Rajasthan Express and Yorke, Selway and Greenwood have scored Inherent Vice, Paul Thomas Anderson's film version of the Thomas Pynchon's novel. The band is also a favorite for Glastonbury 2016. 
Who else? Music Times reported in October that composer Robert Ziegler is working with producer Nigel Godrich on Radiohead's upcoming album, citing a series of Ziegler's September tweets from inside the recording studio.