Snapchat Is Down and the Internet Is Freaking Out About Their Stories and Snap Streaks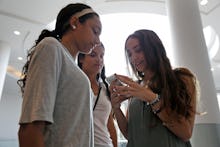 Snapchat encountered service problems Tuesday, causing a handful of the popular social media app's over 100 million users to question the fate of their snap streaks and stories — which would would ultimately disappear within 24 hours anyway. The app first began encountering problems at 5:37 a.m. Eastern, according to Down Detector, a tech site that flags other sites experiencing issues with connectivity or service.
Snapchat's support page on Twitter acknowledged the issue Tuesday:
What Snapchat's most loyal users began to freak out about after experiencing service interruptions were their snap streaks, and whether their previously uploaded snaps will be found when they're able to access it once again. When two people on the app send each other snap messages, whether in writing or through a photo or video, an emoji appears next to those users' names on their contact list. The more friends a user is sending and receiving messages from, the more streaks they accrue and, in this case, the more they have to lose.
Yes, these are some of the struggles the younger generation faces. Snapchat users immediately recovered their Twitter passwords to express their frustration:
Kermit the Frog could be found sipping his tea in multiple posts across Twitter as other users called out the hypocrisy of some people caring a tad too much about Snapchat instead of other things, like their grade-point average.