J.K. Rowling Compares Donald Trump to Lord Voldemort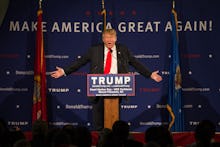 J.K. Rowling, the British author behind the beloved Harry Potter book series, weighed in Tuesday on the controversy surrounding Republican presidential hopeful Donald Trump's recent statements about Muslims. In a tweet, Rowling compared Trump to Voldemort, Harry Potter's supervillian. In Rowling's opinion, "He Who Shall Not Be Named" was "nowhere near as bad" as Trump.  
On Monday, Trump called for a total shutdown of Muslims entering the United States until the government can "figure out what is going on." The comment drew fury across party lines. 
"Donald Trump is unhinged," Republican presidential candidate and former Florida Gov. Jeb Bush tweeted. "His 'policy' proposals are not serious." Democratic presidential candidate and Vermont Sen. Bernie Sanders added, "Now, Trump and others want us to hate all Muslims." 
Harry Potter fans went wild on social media in response to Rowling's comment:
Other Twitter users suggested that likening the loathsome Voldemort to Trump was too kind a comparison.
In Trump's statement on Monday, he pointed to the Pew Research Center, which suggested "large segments of the Muslim population" harbor hatred for Americans. 
"Without looking at the various polling data, it is obvious to anybody the hatred is beyond comprehension," Trump said in the statement. "Where this hatred comes from and why we will have to determine. Until we are able to determine and understand this problem and the dangerous threat it poses, our country cannot be the victims of horrendous attacks by people that believe only in jihad, and have no sense of reason or respect for human life."
The statement elicited outrage and scorn from many politicians and voters alike. Yet for his part, Trump seemed both non-phased and unapologetic in response to his criticizers. "I wrote something today that I think is very very salient, very important and probably not politically correct, but I don't care," Trump said Monday at a South Carolina rally, NPR reports.
According to Monday's findings from CNN/ORC, Trump is polling at 33% of GOP voters. Texas Sen. Ted Cruz trails Trump with 20% of voters' favor, followed by Ben Carson, who is polling at 16%. 
Get the news everyone's talking about delivered straight to your inbox every morning by signing up for MicCheck Daily.