Apple Announces a Smart Battery Case — Here's What to Know About Price and Battery Life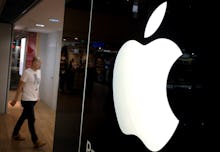 Apple introduced the Smart Battery Case for the iPhone on Tuesday that's supposed to provide the phone with 25 hours of battery, potentially easing the excruciating anxiety caused by an iPhone dying on the go.
The new case, priced at $99 and designed for the iPhone 6 and 6s, should "increase talk time up to 25 hours," according to Apple's product release, up to 18 hours of data usage and up to 20 hours of video playback. The case comes in dark gray or white.  
There's no need for a separate charger for the battery case as it's compatible with the average iPhone charger. Apple says "the silky, soft-touch finish of the silicone exterior feels great in your hand."
The battery-enhancing case may not live up to its competitors, like the $50 Incipio Offgrid Express. The Verge's Lauren Gode reported that, in her opinion, the Smart Battery Case isn't the best out there. Among other things, Gode wrote that the case doesn't have an option to stop charging like other cases do. "Once you put the case on, it just starts charging your depleted iPhone," she wrote. "If both devices are at 100 percent, and you've got the case on, the phone will use the case's battery first, then switch to draining its own cell."
iPhones have developed a reputation for having weak battery life upon the first iPhone release in 2007, and not much has changed since. A chart by Dadaviz in February shows that battery life hasn't significantly improved since the original iPhone.