There Is Officially Good News for Pale People, Thanks to Beauty Report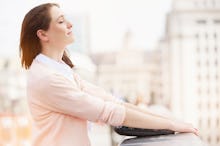 Usually around this time of year, when the sun sets early and we're forced to live in a world of darkness, people go looking for artificial sun, flocking to tanning beds and buying self-tanning products to retain their healthy summer glow. (Remember #hotdoglegs?) 
But lately, that's just not the case: Being bronzed has fallen out of favor. 
According to new research from market research agency Mintel, about 13% of all British citizens say they use tanning products, compared to 17% last year. That same trend also applies to gradual tanners and in-salon services like tanning beds, with usage among British citizens dropping from 11% last year to 8% this year. 
Information from Mintel's product database also show that just 22% of new sun care products launched in the U.K. in 2015 were self-tanning products, versus 37% in 2012.
In other words: There's no more shame in your sunscreen game.
"The popularity of self-tanning products has declined substantially over the past year, suggesting that the fashion for artificial tans is waning as people instead embrace a more natural look," Mintel's consumer lifestyles analyst Jack Duckett told Mintel. 
We want to glow, not turn orange. That drop in interest in the U.K. matches certain patterns in the United States. 
According to a recent data analysis, published in the journal Jama Dermatology, tanning bed use in the U.S. has dropped in recent years. Only 4.2% of Americans said they used tanning beds in 2013, compared to 5.5% in 2010. Young people in particular appear to be conscientious of the negative effects of tanning: 11.3% of 18 to 29-year-olds used tanning beds in 2010, compared to just 8.6% in 2013. 
Self-tanning products, from bronzing lotions to spray tans, enjoyed something of a boom from 2010 to 2012. But "sun care continued to slow down in 2014 as Western Europe declined while North America remained stagnant," reported Euromonitor International. While certain products hold on, there isn't quite a craze and excitement around new self-tanning products.
The ideal complexion these days is healthy, natural and glowing. Instead of fair shoppers hoarding bronzer, people are obsessing over highlighters in their beauty routine (the rise of Korean beauty, which prizes healthy-looking, glowing skin, may be partly to blame). Even the ever-popular contouring trend only requires bronzer in just the right places — not all over your face and body. 
"This trend was highlighted at London Fashion Week where a number of shows featured models wearing more natural base make-up with a dewy sheen on natural-looking faces, accompanied with mascara-free eye lashes," Mintel's Duckett said. 
It helps that we have a pretty good idea of how dangerous the sun can be. Around 3.3 million people are treated for skin cancer in America every year, and melanoma has become the most common type of cancer for young people. And since a "tan tax" was placed on U.S. tanning salons in 2010, around half of them have closed. 
All of which is great news for the pale folks out there, who never were good candidates for the overly bronzed trend in the first place. Now we can all avoid the horror of turning Oompa Loompa orange.