Eagles of Death Metal Return to Paris — Check Out the Powerful Backstage Pics With U2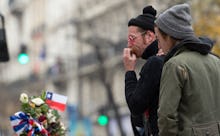 On Nov. 14, the Eagles of Death Metal's set at the Bataclan club in Paris was cut short by horrible violence. Those shots, fired by ISIS-affiliated terrorists, silenced music in the City of Light for days afterward. It diverted big-name acts like Foo Fighters and Prince away from the continent. Now, the music is slowly returning.
U2 lead singer Bono was tremendously outspoken following the Paris attacks, describing them as the "first direct hit on music." The band played a show at the AccorHotels Arena in Paris Monday. They used their time onstage to make a powerful statement about resilience in the face of terror, inviting the Eagles of Death Metal to join them onstage.
"They were robbed of their stage three weeks ago, and we would like to offer them ours tonight," Bono told the crowd.
The performance aired as a part of a recorded HBO special, which the group previously had to reschedule following the attacks. However, Parisian artist and photographer JR captured some of the most intimate shots of the night. He was backstage with the bands before they took the stage. His photographs captured much of the emotional power of what transpired onstage that night.
"I felt an intense energy under the stage being with them right before they went up there," JR wrote in a caption accompanying one of the photos. "They portrayed a strong message tonight, we as artists are not afraid and we will not stop creating."
Following the performance, Eagles of Death Metal singer Jesse Hughes also issued a statement through the band's Facebook page thanking U2 for "providing us the opportunity to return to Paris so quickly, and to share in the healing power of rock 'n' roll with so many of the beautiful people — nos amis — of this great city."
In addition to providing stage time Monday, U2 previously bought the Eagles of Death Metal new cell phones to replace those they lost fleeing the venue, and offered them their private jet to return to the United States following the attacks.
"They reminded us that the bad guys never take a day off, and therefore we rock 'n rollers cannot either ... And we never will," Hughes wrote, referring to U2. "Thank you to France, and thank you to everyone in the world who continues to prove that love, joy, and music will always overcome terror and evil. We look forward to fighting the good fight on many more fronts very soon, especially when we pick up our tour in 2016. See you again in February, Paris."
Watch the full duet performance below.