J. Cole 'Revenge of The Dreamers 2': Track List, Streaming and Download Options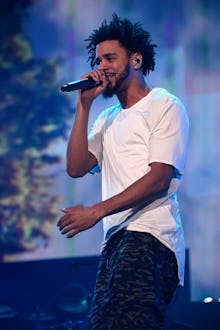 Going with his pattern of surprise releases, rapper J.Cole dropped his latest album, Revenge of the Dreamers II, on Monday, five days ahead of its original Friday release.
The mixtape is a collaboration between J. Cole and fellow Dreamville Records label rappers Bas, Omen and Cozz. They teased the release Sunday night, tweeting a hotline number that led to a sneak peek of one of the tracks, but the pre-order page for the album on iTunes still showed an expected release date of Friday until Revenge of the Dreamers II was released Monday night by complete surprise, Uproxx reported. 
Revenge of the Dreamers II track list: The nine-track album can be purchased on iTunes and streamed on audiomack.
1. "Folgers Crystals" by J. Cole
2. "Night Job" (feat. J. Cole) by Bas
3. "Backseat" (feat. Cozz) by Ari Lennox
4. "Caged Bird" (feat. Omen) by J. Cole
5. "48 Laws" (feat. Donnie Trumpet) by Omen
6. "Housewives" by Bas
7. "Tabs" (feat. Bas) by Cozz
8. "Still Slummin'" by Iute
9. "Grow" (feat. Correy C) by Cozz
Another rumored album on the horizon: Fans are still waiting on the release of a rumored collaborative album by Cole and rapper Kendrick Lamar after Cole hinted at a possible February release in a surprise track dropped on Black Friday. The two have been teasing a joint album since 2011 but said the release would be a surprise.