Jordan Smith 'The Voice' YouTube Video: Watch Kentucky Teen Cover "Somebody to Love"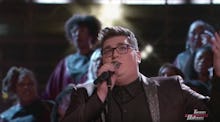 The Voice's season nine semifinal episode was Monday night, when the singers will get narrowed down to just four, according to Billboard. Kentucky's Jordan Smith, who is on judge Adam Levine's team, had the final performance of the night with a rendition of Queen's "Somebody to Love" against the backdrop of a live choir. 
The reviews were wholeheartedly positive: 
"I don't need to say anything at all, because that was the best thing I've ever seen in my life," Levine said on the show.
Smith, a senior from Lee University in Tennessee, comes from two musician parents, and has spent his life involved in band and choir in both church and school, according to a September interview with Smith and the Lexington Herald. With Lee University's choir, Smith has performed for President Barack Obama and at the Vatican. 
After he sang a rendition of Sia's "Chandelier" on The Voice in September, Levine told Smith he was the "most important person that's ever been on this show," the Lexington Herald reported. 
Smith has previously performed "Hallelujah" and Beyonce's "Halo," and always ends up on iTunes' top 10 the day after each episode airing, according to Parade. He currently holds the top spot on the iTunes chart, nudging Adele to No. 2.
The performance can be viewed below: