Frank Ocean May Drop the Single "White Ferrari" —Here's What We Know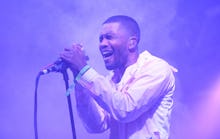 The rumor mill is churning about a possible release from American rapper Frank Ocean after a mysterious tweet recently surfaced via Canadian producer A-Trak. "Mark my words: In a few weeks you'll hear a song called 'White Ferrari.' I can't tell you who it's by, but it's the best thing you'll hear this year," read the tweet, which has since been deleted, NME reported. Yet Ocean's adoring fans are clamoring for proof.
Rostam Batmanglij, of rock band Vampire Weekend, for one, weighed in on Twitter with a simple "Yup." Batmanglij is also widely known as a prolific collaborator and producer who has worked with musicians such as Hamilton Leithauser, Charli XCX, Ra Ra Riot and Carly Rae Jepsen, to name a few.
Despite that hint, other fans are skeptical that new material will arrive in the coming days. In a Frank Ocean Reddit thread, one user claims to have exchanged messages with Ocean's brother Ryan Breaux via Snapchat. "I snapchatted Frank's brother Ryan with a picture asking 'White Ferrari?' And he responded with 'False,'" wrote one Reddit user, who also shared a screenshot of the conversation via Imgur. "Not sure if this shuts down the rumors or not." 
 "I wouldn't consider this true," wrote another Reddit user. "Ryan has insisted the album was coming in July." 
Others claim a single could be released as early as Friday:
With such mixed messaging, Frank Ocean fans were understandably confused. Reacting on Twitter, some were flustered, others were impatient and still others were hopeful.
Ocean, who was born Christopher Edwin Breaux, has yet to address the rumors publicly. The singer began his career as a ghostwriter and has worked with some of the most successful artists in the world, no least among them Beyoncé. The most recent solo, studio LP from Ocean, Channel Orange, was released in 2012. That year, the album was nominated for album of the year and won best urban contemporary album at the Grammy Awards.