Victoria's Secret Buffalo Wing-Eating Stunt Sums Up Our Perverse Fixation on Models Eating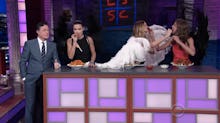 The Victoria's Secret Fashion Show airs on Tuesday night on CBS, meaning we're getting reacquainted with the models, checking out their wings and hearing about their fitness routines. 
We're also gawking at their eating habits.
On Monday, Stephen Colbert hosted three Victoria's Secret Angels on The Late Show with Stephen Colbert. The brief segment focused on one thing: watching them eat. 
Yeah, that was about it. Watch these models eat buffalo wings.
The desire to simply watch Victoria's Secret models eat isn't actually unusual. We have long been fixated on what the models eat, how much and how often. "What Victoria's Secret models actually eat" is a typical headline. 
In a preview article for the show, CBS News noted, apropos of pretty much nothing: "[Martha] Hunt's last meal before hitting the makeup chair was eggs. She promised her first after the show would be: 'Pizza. ... Pizza is one of my favorite foods. Pizza and pasta.'" 
There's a curiosity-driven focus on the models' healthy diets and how they self-discipline their way to those fit bodies, in a process the Daily Mail called a "four-month hell." Confessional-type articles in which models "reveal" their dietary secrets are quite common. We click to see how many cheat days these models have, if they allow themselves carbs, or if it really does require "green juice" to get those abs. 
The healthy eating talk often is tinged with admiration and aspiration, as if we are taking notes for our own routines. Sometimes, we are: One Elle editor followed a Victoria's Secret diet for eight days, noting, "This detox diet was not fun."
On the flip side, there is also a perverse obsession with how unhealthily the models can and do sometimes eat. Backstage at the filming of the Victoria's Secret Fashion Show this year, TMZ interviewed the models about their post-show meals for a video entitled, "Backstage With Hot Models Who Crave Fatty Foods."
That fixation can feel wrong — including to the models themselves. Model Magdalena Frackowiak gave TMZ a healthy dose of side-eye when the website asked her about her post-show eating plans, pointing out that asking her that made it seem like she was starving herself for the show. 
Which, of course, is the underlying assumption about these models. Our awe for their healthy diets is  joined by judgment of the lengths these models will go to to stay fit. At the same time, we're skeptical if they somehow eat a ton of crappy food and don't gain any weight, if the popularity of the viral "You Didn't Eat That" Instagram is any indication.
Our fetishization and judgment of the models' eating habits, both "good" and "bad," reflects a societal fixation on food as well as women's bodies — theirs and our own.
Which is why it's no surprise that tweets from viewers during the annual runway extravaganza are rife with comments about food. It seems that viewers are made to feel bad about their own eating habits while passing judgment on the eating habits of others. 
We can't predict exactly how the show will go tonight, once edited and aired between commercials for an hour on primetime TV. 
But we can cross our fingers that this year, we'll take it easy on the models who are walking as well as ourselves. Life is hard enough without judging each other and ourselves for the food choices we make — which, for the record, are ours alone.