This Woman's Expletive-Laden, Dog Poop-Filled Post-Breakup Ode to Adele Is Everything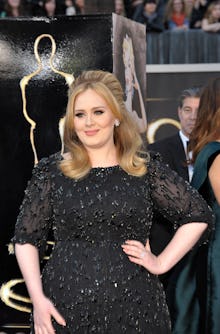 If you're a Christmastime curmudgeon who's unmoved by the healing power of the Adele canon, then you might want to take a gander at a recent Facebook post by a woman in Ireland who shared a touching open letter on the Facebook page for an upcoming Adele concert.
In the letter, a woman named Stephanie unspools a gripping personal tale of infidelity, alcohol, dog poop, human pee, a canceled engagement to a "dirt bag" and one very fateful 2011 Brit Awards performance.
Read it for yourself:
In her post, Pope recounts breaking up with her "2 timing, lying, cheating dirt bag of a fiancee" a few weeks before Adele sang at the Brit Awards in 2011. After going on "a 'fuck you and your secret love child' night out with [her] mates," Pope ended up stumbling home drunk, where she "puked [her] guts out and pissed [her] pants whilst doing so" (note how the "whilst" adds a touch of class to the already-elegant narrative). 
Then, Pope stumbled to her living room, where she saw Adele singing "Someone Like You" on TV. As she sang along and wept, she realized that a genuine connection had been made. "There I was with dog shit on my shoes, sick on my dress, standing in pissy tights and pants, with zero dignity and not knowing a fuck what I was gonna do now," she wrote. "But in that instant you became me and I became you."
Pope concluded her post by thanking Adele for "helping me through it all."  
The post struck a chord with quite a few Facebook users. As of this writing, it has collected nearly 65,000 likes and 4,000 comments saying things like "Brilliant!!" and "You're my hero." It's easy to see why: In the face of a (literally) shitty situation, our heroine honored her messy emotions with an Adele singalong, allowing the music to fortify her with the strength to get out of an unhealthy relationship.
"I didn't give a shit, I was pissed and I was a woman, with feelings, and a heart, and I deserved better," she writes in the letter to the Queen. "All I needed was me and you, because you understood!" (Mic has reached out to Stephanie for further comment and will update if we hear back.)
The letter also illustrates why breakup songs tend to be so popular. Research has suggested that ballads like "Somewhat Like You" are so effective because they provide people with a vehicle for emotional catharsis, which ultimately leads to healing. Which, as this example so powerfully demonstrates, is always right around the corner from a good Adele-soundtracked sob-fest.
Revisit the story's famed Brit Awards performance below:
h/t Mashable