Photos of Flooding in Northwest US Show Impact of Record Rainfall in Oregon and Washington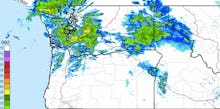 Heavy rainfall, and in some parts flooding, covered much of the Pacific Northwest of the United States from Sunday through Monday, as "a parade of Pacific storms" continued to slam the region with record rainfall, according to the Weather Channel. Western Washington and western Oregon were hit with the harshest onslaught of rain, with experts predicting both regions to receive the most rainfall again on Tuesday and Wednesday as additional storms roll in. 
The series of storms pounding the region has also caused a high-wind warning to be issued in western Washington through Tuesday afternoon, at time of writing, stating, "The gusty winds could blow down weaker trees and branches. Local power outages are possible. ... A high-wind warning means a hazardous high-wind event is expected or occurring. Sustained wind speeds of at least 40 mph or gusts of 58 mph or more can lead to property damage."
People in the Pacific Northwest have been posting images online of the damage caused by the record rainfall and flooding, with many tweets coming out of Portland, Oregon. Twitter users showed pictures of their office parking lots as well as roadways and entire neighborhoods entrenched in water.
Rainfall and flooding is expected to last in the northwestern portion of the U.S. until Thursday, according to the Weather Channel. Flood warnings are also in effect throughout northern Idaho and western Montana, and northwest California is expected to receive some flooding as well.