Video of Chicago Man Being Tased by Police in Jail Cell Fuels Tension in the City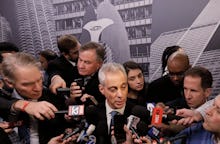 The city of Chicago has released a video of Philip Coleman, 38, being tased and manhandled by police officers in a jail cell in 2012. Coleman died soon after from a reaction to a hospital-administered antipsychotic drug, haloperidol, according to CNN.
Coleman's father, Percy Coleman, told the Chicago Tribune his son suffered a mental breakdown on Dec. 12, 2012, and got in an altercation with his mother, who called the police "to get [Philip] some help." When officers tried moving Coleman from his cell to a court building later, a struggle ensued and the officers used their stun guns. 
Coleman also resisted officers trying to subdue him later at the hospital, where he was administered a sedative and the haloperidol. He started experiencing "physical problems" shortly before he died. The medical examiner found "dozens" of bruises and abrasions covering Coleman's body, plus a fractured rib.
On Monday, Chicago Mayor Rahm Emanuel openly condemned Coleman's treatment. "I do not see how the manner in which Mr. Coleman was physically treated could possibly be acceptable," he said in a statement, according to CNN. "While the medical examiner ruled that Mr. Coleman died accidentally as a result of treatment he received in the hospital, it does not excuse the way he was treated when he was in custody ... As a result I do not consider this case to be closed or the investigation into what happened that night to be over."
The city has since made public numerous documents relevant to the case, including 911 calls and police reports.
Renewed attention to the Coleman case comes after the U.S. Department of Justice announced Monday it would launch a civil rights investigation into the Chicago Police Department, an organization that has faced heightened accusations of misconduct and corruption since the alleged cover-up then release of a video showing CPD Officer Jason Van Dyke shooting and killing 17-year-old Laquan McDonald. 
Mayor Emanuel had initially opposed the DOJ investigation, but later changed his tune, now saying he "welcomes" it. Emanuel has also fired former-CPD Superintendent Garry McCarthy, and announced the launch of a "police accountability task force" in the city.