Geminid Meteor Shower 2015: Peak Times, How to Watch, Photos and More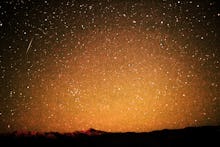 While sky shows tend to be overhyped, the Geminid meteor shower that will peak this Sunday and Monday is supposed to be one of the most promising of the year with roughly 50 shooting stars per hour, the Pittsburgh Post-Gazette reported.
Here's when and how to watch the 2015 Geminid meteor shower and photos from last year's stellar phenomenon.
What's in a name? The upcoming meteor shower is named Geminid because it radiates from the Gemini twin stars Castor and Pollux, Forbes reported. The waxing crescent moon, a less-than-half-illuminated moon that's in its growing phase, should set early, leaving the sky dark for prime viewing opportunity, according to EarthSky.
"The December Geminids are a particularly reliable and prolific shower, one of the finest of the year," reads a statement on EarthSky's guide. 
How to watch: The sky show should be in full effect between 10 p.m. on Sunday through 6 a.m. on Monday, the Post-Gazette reported, but optimal viewing will happen after midnight. According to EarthSky, peak viewing will occur at 2 a.m. local time regardless of location.
Contrary to popular belief, the meteor shower can't just be seen from its radiant point, but from anywhere throughout the sky, according to EarthSky, but the Geminid meteors will appear to trace back to the Gemini constellation. 
EarthSky recommends waiting at least an hour to spot the meteor shower as it takes the eye at least 20 minutes to adapt to the dark enough to spot it.
Here's a look at previous Geminid meteor showers:
The Geminid comes four months after the annual Perseid meteor shower, known also as a reliable meteor shower, happened in July and August and made for dazzling intricate photo opportunities of raining stars. Here are 22 of the most impressive photos from this year's Perseid meteor show.