Medical Marijuana in Michigan Update: Lawmakers to Vote on Pot Monopolies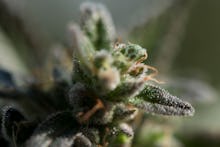 Michigan's Senate Judiciary Committee will likely vote on initiating a tiered system for the state's medical marijuana industry on Tuesday, MLive reported.
The system aims to block monopolies, like the three-tiered system that regulates alcohol, and will affect growers, distributors and retailers, State Sen. Rick Jones said Monday, according to MLive. Medical marijuana in Michigan became legal in 2008, but some government officials think groundwork for a system to better regulate the industry is needed.
"If we have a monopoly, then obviously they'll have monopoly prices, so I would think everyone would be on board with a system where people have different choices," Jones said about his proposal, which would bar marijuana businesses owners from acquiring multiple marijuana business licenses, according to MLive.
But not everyone is in favor of the system. Some patient advocates argue that in a system where owners are restricted to one branch of the marijuana industry, that established distributors and middle men will reap the most profit and drive up prices.
"If you were to grow medical marijuana, you wouldn't be able to have ownership in a retail or provisioning center, which paves the way for a distributor," the National Patients Rights Association's Robin Schneider, who instead supports a vertically integrated company model, said, according to MLive. 
The number of those asking for commercial licenses is already too big, according to some law enforcement officials, MiBiz reported.
In October, the Michigan House first approved a three-bill package that aimed to regulate the medical marijuana industry so that patients could buy the drug from taxed dispensaries, MLive reported that month. Included were tax amounts, a bill regarding an edibles tracking system and House Bill 4209, which created a state board to do the regulating. 
As of last month's local and state elections, a total of 20 towns have passed marijuana-positive laws, such as residents in the Detroit suburb of Keego Harbor who passed an amendment that allows people on private property over the age of 21 to have up to 1 ounce of marijuana. 
But if the bill fails in today's hearing, which Jones expects will be long, he said he would ask for floor consideration, MLive reported.
So far, 23 states and Washington, D.C., have legalized marijuana in some form.