Wiz Khalifa 'Cabin Fever' Mixtape May Drop Soon —Here's the Artwork and Track List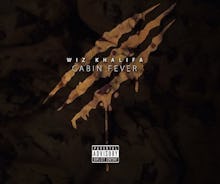 Wiz Khalifa continues to tease fans with Cabin Fever 3 surprises, the latest mixtape from the "We Dem Boyz" rapper. Though an official release date hasn't been announced, Wiz Khalifa uploaded images to Twitter Monday night that revealed the project's artwork and track list, featuring 10 new songs and a bonus track produced by tenured rap producer Ricky P.
According to his Twitter, Wiz Khalifa is also teaming up with a number of the industry's hottest producers and fellow rappers, from producers TM88, Sonny Digital and DP Beats to rappers Juicy J, Curren$y, Yo Gotti and Problem. The artist posted both pictures writing, "Guess what."
The mixtape's artwork appears to have claw marks over a darker image of chocolate chip cookies. The top of the cover reads "Taylor Gang Presents." Taylor Gang is the name of Wiz Khalifa's record label, as well as the quintessential name of his group of friends and fellow rappers. The rapper's latest project follows Cabin Fever and Cabin Fever 2, two of his mixtapes, which both received over 1 million downloads on mixtape distributing service DatPiff, according to Music Times. 
Below is the track list for Cabin Fever 3:
1. "Respect" feat. Juicy J and K Camp (prod. by TM88)
2. "Move On" feat. Kevin Gates (prod. by Sonny Digital)
3. "Prequel" feat. Curren$y (prod. by Sonny Digital)
4. "Freak Dips" feat. Chevy Woods (prod. by DP Beats)
5. "No Worries" (prod. by Sonny Digital)
6. "Finish Line" (prod. by Sonny Digital)
7. "Shit Starters" (prod. by TM88)
8. "Call Again" feat. Problem (prod. by Easy Mo Bee)
9. "Gangster 101" feat. King Los (prod. by Sonny Digital)
10. "Left" feat. Yo Gotti (prod. by Sonny Digital)
Bonus: "Fucc Day" (prod. by Ricky P)
If Wiz Khalifa does choose to release the mixtape in the near future, it would arrive before his new album, Rolling Papers 2: The Weed Album. "It's coming out next year, not this year," Khalifa said of the album in a November interview with Power 106 Los Angeles. "A lot of people think I'm gonna drop it this year, but I'm not. I'm gonna drop it next year. ... There will be surprises, you know how I work. I always put music out and I ain't drop an album this year, so I gotta put something out."