Lady Gaga: Oscar Nominee? 7 Pop Artists Who Could Be Academy Award Contenders Next Year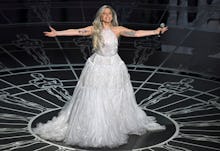 When Adele won an Oscar for "Skyfall" in 2013, she threw down the gauntlet. This was a modern pop star who won the best original song category with a contemporary hit — not a Disney song, not a song from a musical. Her win took the category back to its populist roots. John Legend and Common's win for "Glory" the following year indicated that, after years of weak races, the best original song race was back to being competitive.
This year shows signs of being similarly climactic. No less than seven stars are potential nominees for best original song next year, each with tracks that have enjoyed at least some popular play. Could the Weeknd soon be "Academy Award nominee the Weeknd"? Will Lady Gaga join Adele in the echelon of Oscar-winning pop divas? Here's the rundown of the potential pop star nominees, and what their odds look like.
Lady Gaga
Lady Gaga wrote "Til It Happens to You" to accompany The Hunting Ground, a documentary about rape and sexual assault on college campuses. Her inclusion helped to bring the film extra exposure. "The desire or aspiration was to have someone of major importance contribute a song to the film, because we thought that that would help the cause and help publicity," producer Amy Ziering told MTV in January.
Odds of a nomination: Good! Co-writer Diane Warren is an Oscar nomination magnet, having gotten nods in this category seven times (including earlier this year for Beyond the Lights' "Grateful"). Plus, the song earned a Grammy nomination for best song written for visual media earlier this week, so it's got some momentum. Even if they don't love the song, Oscar voters may want to give Gaga a de facto reward for her Sound of Music medley from this year's ceremony.
Sam Smith
Following in Adele's footsteps (as he often does), Smith composed and sang "Writing's on the Wall," the theme song for newest James Bond film Spectre. Smith said he wrote and recorded the song in 20 minutes — much like how "Skyfall" was mistakenly said to have been recorded in 10 minutes. That story was later debunked; it takes more than a few minutes to write an Oscar-winning song.
Odds of a nomination: For "Writing's on the Wall," not great. Though Adele won an Oscar for her Bond theme in 2012, hers was the first to do so. Considering reviews of Smith's song were not kind, voters will likely pass. Smith actually has two chances to be nominated this year, however, and his second looks a lot better.
Sia
In the world of Pitch Perfect 2, Hailee Steinfeld's character Emily co-writes "Flashlight" with Anna Kendrick's Beca. In reality, however, the song is a Sia-penned track performed by Jessie J. One of Sia's fellow scribes on the track, however, is Smith, effectively giving him two chances at best original song gold this year.
Odds of a nomination: Since Pitch Perfect 2 is such a musical movie, voters may want to honor its original song as representative of the film. "Flashlight" also contributes heavily to Emily's arc (coming into her own as a songwriter), so it stands ahead of other songs that merely play over the credits in their films. Sia and Smith are likely nominees.
Wiz Khalifa
Wiz Khalifa and Charlie Puth's Paul Walker tribute song was everywhere this year, but it was most prominent in 2015's box office behemoth Furious 7. The song's tearjerker quality will give it an edge in a year without many emotionally driven tracks.
Odds of a nomination: Oscar's history with rap is limited but intriguing: Songs like "Lose Yourself" and "It's Hard Out Here for a Pimp" earned not only nods, but wins in their respective years. "See You Again" was No. 1 on the Billboard Hot 100 for 12 weeks, so it's clearly popular. If it can earn a nomination, it's probably this year's winner.
Jenny Lewis
Though performed by Meryl Streep in Ricki and the Flash, "Cold One" was written by former Rilo Kiley frontwoman Jenny Lewis. In the context of the film, it's an old song of aging rocker Ricki Randazzo's she performs for her ex-husband and daughter in one quieter moment, then reprised at the end of the film in more spectacular fashion.
Odds of a nomination: Unclear. On one hand, it's a song organically used in the film that has relation to the plot, sung by one of Oscar's favorite living actors. On the other hand, Ricki and the Flash received critical and commercial shrugs, and Streep isn't campaigning for a best actress nomination. It's hard for a movie to just receive notice for one thing, though Lewis and "Cold One" are certainly deserving.
The Weeknd
The Weeknd ruled the charts this year with "Can't Feel My Face" and "The Hills," but his big 2015 began with a cut from the Fifty Shades of Grey soundtrack. "Earned It" is a slow burner of a song, but that didn't stop it from peaking at No. 3 on the Billboard Hot 100.
Odds of a nomination: Oscar recognition would be quite a year-capper for the breakout star, but the Weeknd is probably a long-shot. Fifty Shades of Grey won't earn attention in any other categories, and he has internal competition from Ellie Goulding's "Love Me Like You Do" (who didn't write her song and therefore isn't a potential nominee). Plus, though catchy, the song doesn't have any direct relation to Fifty Shades of Grey's narrative.
Rihanna
Rihanna put together a concept album for Home, the animated film for which she provided the lead character's voice. Included on the soundtrack were several songs Rihanna recorded and co-wrote, several of which could be contenders. Unfortunately for her, there's no clear favorite, which will keep tracks like "Towards the Sun" from gaining momentum in a crowded field.
Odds of a nomination: Rihanna getting Oscar nominated this year is as likely as fans getting ANTI by the end of the year: Possible, but don't count on it.