Siri Has an Awesome Response When You Ask About Talking to People With Disabilities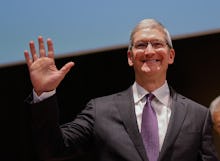 Siri might not be a font of political correctness, but Apple's electronic personal assistant does know the best way to start a conversation with people who have disabilities. 
Apple CEO Tim Cook is the latest big name to join the Cerebral Palsy Foundation's Just Say Hi campaign, an initiative that aims to eliminate the unnecessary awkwardness many folks feel when it comes to meeting people with disabilities. Cook joins celebrities like Michael J. Fox, John Oliver, Felicity Huffman, Mario Batali and William H. Macy in urging the public to say hi — and not to feel so awkward.
"At Apple, we believe inclusion inspires innovation, diversity gives us strength, and that includes people with disabilities," Cook says in a YouTube video shared on the Cerebral Palsy Foundation's website. "The Cerebral Palsy Foundation asked me, 'What's the best way to strike up a conversation with someone who has a disability?'
"It's easier than you think — but don't take my word for it," he says, pulling out his iPhone. "Hey, Siri, how do you start a conversation with someone who has a disability?"
Siri delivers a simple response:
"It's easy. Just say 'Hi.'"
Richard Ellenson, CEO of the Cerebral Palsy Foundation, explained why Cook and Apple were natural fits for the Just Say Hi campaign.  
"Leading a world forward takes courage. Having a vision you insist on bringing to reality takes extraordinary determination and resilience. It's easy to think of Apple as the juggernaut it is today," Ellenson told Mic through a spokesperson. "But what's most compelling to me is the company's history and Tim [Cook]'s history. The unrelenting belief in a humanistic and accessible world that brings together a single person's individuality with a song of community and advancement.
"That ethos is the same one we try to honor as we build CPF and create our initiatives. And it is certainly a spirit deeply alive in nearly every person with disabilities whom I've met over the years," Ellenson said. 
"Also," he added, "it's just plain cool to have 'Just Say Hi' on Siri."
The feature should work on your iPhone. Just make sure you ask the question exactly as Cook does: "Hey Siri, how do you start a conversation with someone who has a disability?"
Here's a screenshot from this reporter's phone: