Ronda Rousey on Her Loss to Holly Holm: "I Wasn't Even Fucking There"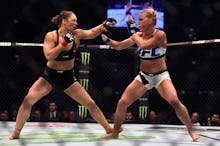 In an exclusive interview with ESPN published on Tuesday, the Ultimate Fighting Championship fighter Ronda Rousey spoke publicly for the first time since her epic loss to Holly Holm in November that broke her perfect record — and while she's still recovering, Rousey's determined to beat Holm in the future. 
"I need to come back," Rousey told ESPN. "I need to beat this chick. Who knows if I'm going to pop my teeth out or break my jaw or rip my lip open. I have to fucking do it." Rousey's stitches are still healing and some of her teeth are still unstable from Holm's kick to the side of her face during the notorious UFC 193 fight, ESPN reported. 
"I'm just really fucking sad," Rousey told ESPN, adding that her performance during the fight against Holm's wasn't representative of her ability and was an embarrassment — but once she took that blow to the face, it was over. "How I fought after that is such an embarrassing representation of myself," she told ESPN. "I wasn't even fucking there."
Rousey talked a big game before the November loss. "She's the kind of person where after I beat her and she makes a lot of money, I'm like, 'Good for her. Buy yourself a Albuquerque house with that,'" Rousey said of Holm at her Glendale Fighting Club gym in California back in October, according to SB Nation. "The last chick it was like, she's a big old bitch, I kicked her ass, she made a lot of money and I'm like, 'Oh well, whatever. Have fun with that.' With Holly, I'll genuinely be happy for her and hope that she accepts her loss in a healthy way and enjoys all the benefits that she got from this fight."
Rousey told ESPN she knows people think "that I'm a fucking failure and I deserve everything that I got."