A Graphic Designer Asked Strangers to Draw Their Emotions — Here's What Happened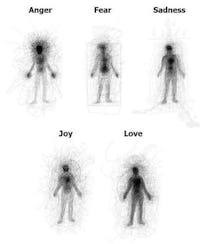 What happens when you ask a bunch of strangers to draw where in their bodies they feel different emotions? It turns out, a lot of them have surprisingly similar responses.
Graphic designer Orlagh O'Brien's project "Emotionally}Vague," set out to "question how feeling can be experienced in the body," O'Brien explained on the project's website.
O'Brien created a survey, part of which asked 250 participants to draw, on an outline of a body, where they experienced different core emotions. Then she layered the results on top of one another:
The 250 people who participated in O'Brien's survey were, according to the website, "men and women from over 35 countries," and ranged in age from 6 to 75. Despite their demographic differences, the drawings revealed some overarching similarities in the way participants recorded their emotions.
The drawings revealed that participants felt "anger" mostly in their head and hands, while "fear" stretched from the head down into the chest. 
"Sadness" and "joy" were also located mostly in the chest, but, perhaps most strikingly, participants drew "love" filling their whole body. 
O'Brien also asked participants what colors and "directions" they associated with different emotions.
"I am attempting to bring attention to the body's patterns of feeling and innate intelligence in a systematic but playful way," O'Brien explained on the project's website. "Over time, this method may be developed into a therapeutic tool, and/or a means of visually representing feeling in an interactive, participatory manner."
O'Brien first revealed the drawings and results of her project. The full results of the survey are available on the project's website.