M.I.A. New Album 'Matahdatah': Here's What We Know, Including a Possible Skrillex Collab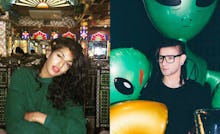 M.I.A. has been working steadily on her new album throughout 2015, releasing a number of visual art projects as part of Matahdatah, including a politically charged music video for her latest single "Borders," and even pulling in other artists from the music industry for her fifth studio album. The English singer and rapper announced via Instagram in September she was enlisting the help of California DJ and producer Skrillex for her latest release. 
"Borders," M.I.A.'s latest single off Matahdatah, focuses on the struggle refugees and migrants have endured traveling to safer regions of the world throughout the European refugee crisis. The music video shows M.I.A. aboard a small raft with a group of refugees, as well as shots of men marching in single-file lines and climbing over barbed wire fences. 
If the album takes on a similar tone as "Borders," there's no question M.I.A.'s latest project will be some of the singer's most personal work to date. Following the video's Nov. 27 release, the singer wrote on Twitter,"I want to dedicate this video to my Uncle Bala, my icon and role model. One of the first Tamil migrant[s] to come to the U.K. in the '60s, who went to inspire so many people as a creative, daring man with so much swag that everything I do doesn't even touch his sides. Thank you for helping my family come to England and taking us out of Sri Lanka and saving us."
Prior to "Borders," M.I.A. dropped a video project on Apple Music from an international trip she took through West Africa and India, titled "Matahdatah Scroll 01 Broader Than a Border." Pitchfork reports the package comprised two songs and narrative forms of dance throughout Africa and India. One of the songs, "Warriors," had already been released by the artist in 2013, while the other, titled "Swords," is the first release off Matahdatah.
Fans gearing up for the album release have been expressing their excitement across social media since news began circulating M.I.A. was working on Matahdatah: