Seattle Car Chase Video: Watch Full Footage of the Deadly Police Pursuit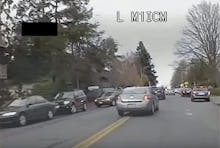 On Monday, Seattle authorities released the full, dramatic footage of a deadly car chase that happened on Sunday. The suspect died on the scene after police shot him after he allegedly opened fire on responding officers, according to a report from the Seattle Police Department.
The dash cam video shows law enforcement officers from the Seattle Police Department in close pursuit of the 35-year-old suspect. According to the police report, the high-speed chase concluded in a collision at NE 68th Street and 35th Avenue NE, north of the city's center. 
According to authorities, the suspect was in possession of two guns. Neither citizens nor officers were "significantly injured" during the incident, though 12 officers have since gone on paid leave, in accordance with the Seattle Police Department's policy. The suspect's name has yet to be announced by the King County Medical Examiner's office.
WARNING: Some viewers might find the chase video, which shows police opening fire on the suspect and his vehicle, graphic:
Prior to the deadly car chase, the suspect reportedly entered a cafe and a separate restaurant brandishing handguns. Business owners alerted the police while the suspect allegedly hijacked a car and fled from law enforcement.
"Police are reviewing all force used in the incident per department protocols developed with the Monitoring Team and the Department of Justice," reads the police writeup. "SPD is also working with the Bureau of Alcohol Tobacco and Firearms to trace the suspect's handguns."
Correction: Dec. 8, 2015