Meet Kristy Garett, The Last 'Playboy' Nude Centerfold Model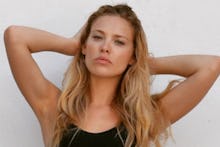 Playboy announced in October that it would do away with nude pictures of women in its magazines — but not before one last encore featuring a blonde bombshell, model Kristy Garett.
"Playboy has a classic American story, and I want to be a part of it," Garett said in a statement to People. The 25-year-old model from Tbilisi, Georgia, was named Playboy's 749th and last nude centerfold model on Monday and will appear in Playboy's February issue, People reports.
"The lifestyle here, where you're free to express yourself, is my type of life," Garett told People. "I am proud of the woman I am and have always dreamed of being talked about because of that."
Garett has appeared in GQ Italy and Cosmopolitan Italy, according to People.
Here's a glimpse at Garett's physical attributes from her Instagram account:
Women will still pose provocatively in the magazine after Garett, just not completely nude. "That battle has been fought and won," Playboy CEO Scott Flanders told the New York Times in October. "You're now one click away from every sex act imaginable for free. And so it's just passé at this juncture."