Kings of Leon's New Album Is 'Coming Soon' — Here's the Latest Info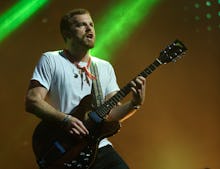 Kings of Leon is in the process of working on a new album, and while there's no official release date set yet, it has been more than a year since drummer Nathan Followill tweeted that King of Leon's seventh studio album was "coming soon."
In June, Rolling Stone reported Followill announced in a radio interview that the band would be finished writing the as-yet-untitled upcoming album "by the end of the year."
The new album will the the first for the band since 2013's Mechanical Bull, which received a Grammy nomination for best rock album.
The band has been quiet about the upcoming album since confirming it was in the works back in June, but its upcoming tour schedule indicates that the band may be planning to clock some serious hours in the studio. Kings of Leon's official website only lists two upcoming performances: a free concert in Nashville, Tennessee, on New Year's Eve and an appearance at the 2016 Firefly Music Festival.