Kandahar, Afghanistan, Airport Attacked by Taliban Gunmen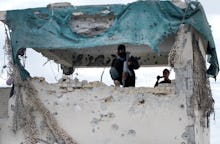 On Tuesday, at least three insurgents with the Taliban attacked an airport in Kandahar, a city located in the southern region of Afghanistan, Reuters reported. Multiple outlets reported that an unspecified number of assailants and possible suicide bombers had stormed the airport and engaged in a shootout with with security forces.
A full 24 hours after the attack began, security forces battling the insurgents had not completely suppressed the assailants, according to Reuters . At least 37 Afghan civilians and security personnel were killed in the attack and at least 35 more were wounded, according to Reuters. An additional nine insurgent attackers were dead as of Wednesday morning. 
"Afghanistan's national army forces are bravely fighting terrorists in airport areas and are trying to act cautiously to avoid harm to civilians," the defense ministry said, Reuters reported.
According the Reuters, a Taliban spokesman named Qari Yousuf Ahmadi said insurgents were engaged in clashes with security forces at the airport, which services both civilians and the military. No causalities had been reported during the shootout by early afternoon Eastern time, however the attack was reportedly ongoing.
Tuesday's incident follows a pattern of violence at the hands of insurgents in Afghanistan, particularly in the wake of the withdrawal of American armed forces, according to the Washington Times. The area under attack on Tuesday fell victim to a separate attack in early November, which the Taliban claimed responsibility for and which involved six suicide bombers, Pakistan Today reports. Another Taliban raid in October earned the insurgent group control of Kunduz, an Afghan provincial capital, for a brief time. 
Several photos shared to Twitter depict the scene in Kandahar:
The number of victims injured in the attack was not immediately clear. A representative in Afghanistan for the U.S. military said the airfield's  security fence was not compromised in the attack, Military Times reports.  
Dec. 8, 2015, 1:20 p.m. Eastern:This story has been updated.
Dec. 9, 2015, 8:30 a.m. Eastern:This story has been updated.