80 Boston College Students Have the Chipotle Flu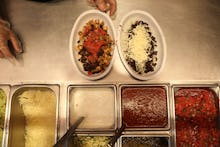 At least 80 students at Boston College are sick after consuming food at an area Chipotle, CNBC reports.
In a statement issued to Mic, the spokesman for the college Jack Dunn wrote, "The number of Boston College students who have reported to BC Health Services with GI symptoms has risen to 80 as of noon today. All 80 students have confirmed that they ate at the Chipotle Restaurant in Cleveland Circle (Boston) during the weekend. All have been tested for both E. coli and the norovirus. Test results will not be available for at least two days."
The Chipotle restaurant in question is not on campus.
Chipotle spokesman Chris Arnold told CNBC the company believes the outbreak is not connected to a recent spate of E. coli infections tied to Chipotle locations. That outbreak began in early November and after three weeks had infected at least 45 people in five states, including Oregon, California, Ohio, New York and Minnesota.
Arnold says it instead appeared to be "norovirus tied to this location."
A spokeswoman for the Center for Disease Control declined to comment on the situation to Mic.
As news of yet another outbreak of food-borne illness at the wildly popular Tex-Mex chain hit airwaves, the company's stock predictably tumbled. On Tuesday alone, shares fell 4% to $529.80. In 2015, the company's stock has fallen by 19%.
The Food Poison Journal reports that before the most recent epidemics, Chipotle was involved in six prior disease outbreaks from April 2008 to Aug. 2015.